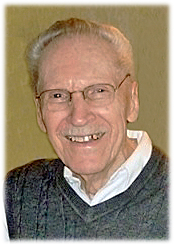 Casper Schuerholz
August 14, 1931 - October 28, 2021
Casper William Schuerholz, age 90 of Farmington Hills, passed away Thursday, October 28, 2021, peacefully at home.
Casper, known as "Bill", was born August 14, 1931, in Detroit, Michigan to the late Casper senior and Florence (Aunkst) Schuerholz.
After serving 4 years in the Navy, he married Virginia Ann "Ginny" Campbell, on November 17, 1956. Bill worked for Massy Ferguson, then GKN Automotive as a test engineer, retiring in 1994. He enjoyed tinkering in his workshop while living in his residence in Northville for 50 years, then lived quietly at Halstead Place in Farmington Hills.
He is survived by his wife Virginia, children Carol (Kevin) Blaser and Allen (Linda) Schuerholz, four grandchildren, and seven great-grandchildren.
A private memorial service will take place later this fall.
Memorials may be made to American Heart Association Detroit.