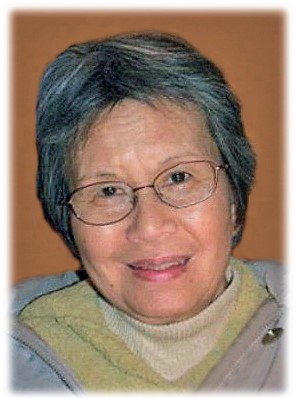 Iluminada Cedro
November 29, 1939 - November 1, 2021
Iluminada Salvino Cedro, age 81 of Farmington Hills, passed away November 1, 2021.
Iluminada was born on November 29, 1939, in Bato, Leyte, Philippines. Before immigrating to the United States in 1974, she earned her bachelor's degree in business from Far Eastern University. She met her husband, Manuel, in Manila, Philippines while working for Scott Paper. In 1966 they moved to Surigao, Mindanao where they both worked for Pacific Cement Co. She worked for AT&T for over 20 years as an analyst before her retirement.
Always caring for others, Iluminada made constant efforts to make sure everyone was happy, healthy and enjoying life. She was beyond generous with her time and money and helped save for her grandchildren's college educations. Her kindness extended beyond her family and into the community as she and her husband volunteered at their home parish of St. Fabian Catholic Church.
As a devout Catholic, Iluminada's faith was very important to her, and the Lord was always close to her heart. She attended Mass regularly, at times every day of the week. She was blessed to travel to The Holy Land with her husband on three occasions. She treasured all the memories she made with family and friends as she traveled throughout Europe as well.
Close to home, Iluminada enjoyed relaxing activities such as reading and knitting. She loved to cook authentic Filipino dishes for others and never came to an event empty handed. Her kind nature and good company was always appreciated. Iluminada's family and friends have many joyous memories to cherish as they remember her, and a very special life well lived.
Iluminada was the daughter of Gerardo Salvino and Florencia Tabinas. She was the beloved wife of Manuel for 55 years. Loving mother of Manuel Jr. (Heather Radcliffe-Cedro) and Mario (Nenita Duller). Cherished Lola of Gail Marie, Morgann, Ryan, Nina and Maegan.
Visitation for Mrs. Cedro will be held on Friday, November 5th, from 2:00 p.m. until 8:00 p.m. with a 7:00 p.m. Novena Prayer at McCabe Funeral Home, 31950 W. 12 Mile Rd., Farmington Hills. She will lie in state on Saturday, November 6th, from 10:30 a.m. until the time of her Funeral Mass at 11:00 a.m. at St. Fabian Catholic Church, 32200 W. 12 Mile Rd., Farmington Hills. Interment will follow in Holy Sepulchre Cemetery, Southfield.
In lieu of flowers, memorial donations in Iluminada's name are appreciated to the Alzheimer's Association or Parkinson's Foundation.