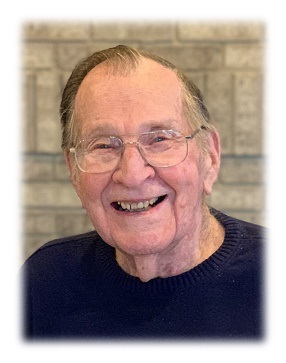 Raymond L. Jones
December 27, 1929 - November 10, 2021
Raymond Leslie Jones, age 91 of Canton, passed away November 10, 2021.
Raymond was born in Detroit on December 27, 1929 to Virgil and Cora Jones. He grew up alongside his five siblings in Detroit and attended Redford High School. Raymond enlisted in the United States Army before graduating but later obtained his GED following bootcamp. He proudly served in the Army for two years and not long after he was drafted to serve in the Korean War. Before he left for Korea, he married the love of his life, Colleen Mae Klump, on August 8, 1953. After serving his country, he returned home and worked for Sears for a year before joining the Detroit Police Force. After 25 years of dedication to his community, Raymond retired in October of 1980.
Although he retired, Raymond liked staying busy and started working as a security guard at Sinai Grace Hospital in Detroit. In his later years, he worked as a Golf Ranger for Salem Golf Course in Salem, Michigan. Raymond also attended Brightmoor Tabernacle in Detroit for over 45 years where he served as a board member. He was presently attending services at Plymouth Christian Fellowship in Canton. Raymond enjoyed hunting, fishing, snowmobiling, and maintaining an immaculate yard and a clean car. Most of all he loved time spent with his family.
Raymond was the beloved husband of Colleen for 68 years. Loving father of Joyce (Rick) Phillips and Karen Rae (Tim) Jeffries. Proud grandfather of Richard II (Heather), Johnathan, and Matthew Phillips, Eric Jeffries, and Kara (Chris) Miller. Great-grandfather of Angela, Rex, and Alex Phillips, Kaitlyn, Guinevere, and Gabriel Miller. Raymond is preceded in death by his parents, Virgil and Cora Jones; his great-granddaughter, Evangeline Miller; and his siblings, Virgil, Pauline, Lorraine, Barbara, and Ronald.
Visitation for Mr. Jones will be held Monday, November 15th, from 10:00 a.m. until the time of his Funeral Service at 12:00 p.m. at McCabe Funeral Home, 851 N. Canton Center Road, Canton. Mr. Jones will be laid to rest in Great Lakes National Cemetery.