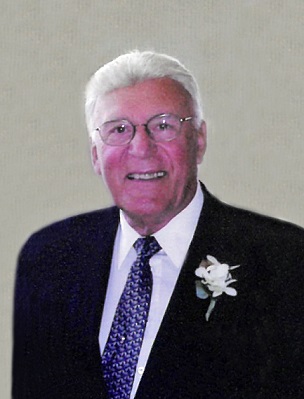 Vincent Moceri
September 24, 1928 - November 18, 2021
Vincent Moceri passed away November 18, 2021 at the age of 93. He was the loving husband of the late Pauline for 66 years; devoted father of Virginia (Dennis) Werner, Laraine (George) Walowich, Frank (Debbie) Moceri, and Linda (Gary) Pieron; cherished grandfather of the late Julie Werner, Amy (Luke) Kiebler, Anne (Josh) Shupe, Emily (Peter) Wasserman, Vincent Moceri, Natalie (Jonathan) Klar, and Ashley, Nicholas, and Brandon Pieron; great grandfather of John Anthony Shupe and Emmett Paul Wasserman; dear brother of Josephine (late Adolfo) Macera and the late Rocco (late Antonina); and brother-in-law of the late Carl (Elizabeth) Calcagno. Vincent leaves many nieces, nephews, and friends. He is preceded in death by his parents; Francesco and Vincenza, and his in-laws; Peter and Laura Calcagno, and special aunt Antonia Barbera.
Vincent was born on September 24, 1928 in Campobello di Mazara, Sicily, Italy to Francesco and Vincenza Moceri. Vincent grew up in a small town near the ocean, where his father had an olive farm. At a young age, he knew what he wanted to do with his life and at 11, began learning the trade of carpentry. Vincent was a free spirit. He loved to have fun and could be found riding his motorcycle throughout his teen years. He briefly served in the Italian Armed Forces and once discharged, continued to perfect his craft. At the age of 22, Vincent immigrated to Windsor, Ontario, travelling for two weeks by boat. He arrived eager and looking for opportunities.
While living in Canada, Vincent met Pauline Calcagno who came from Detroit for a family function. The pair locked eyes and the rest is history. They briefly dated before tying the knot on July 3, 1954 at St. Frances de Sales Catholic Church. The happy couple celebrated afterwards at the Book-Cadillac Hotel.
Vincent was fortunate to have his talents recognized, landing him a job in Detroit at Max Sabaroff Fixture Company. The happy couple initially lived in Windsor then moved to Detroit where they lived with his wife's family for a short time while Vincent built his first home on Freeland St. in Detroit. It was during this time that Vincent attended school learning English and learning about the country that would become his land of opportunity. They welcomed their first child Virginia and soon after, the couple was blessed with three more children Laraine, Frank and Linda. Vincent loved building and went on to build three more family homes.
Vincent was a hard worker, cofounding his general contracting & woodworking business, JD & M Building, in 1975. He worked tirelessly throughout his life to create his vision and success for his family. After retirement, Vincent continued to stay busy in the craft he loved. He and Pauline spent their winters in Cape Coral and later, Ft. Myers. The pair travelled visiting many countries including Italy, and South Africa. He also took his family on two cruises, the last one being Alaska.
Vincent and Pauline loved their summer home in Gladwin. Family visited often and fun was always around the corner. Water skiing and tubing kept the grandchildren active. Afterward everyone enjoyed cooking the family meal and spending time together.
Vincent loved to hunt, golf, and had a passion for gardening. He always kept his religion and heritage close to his heart. Vincent and Pauline taught their children and grandchildren the importance of family traditions. Christmas Eve was especially important to Vincent. He was happiest surrounded by all his family and friends.
Vincent was a founding member of the Italian American Club, holding a lifetime membership. He had many friends, having conversations with everyone he met. He was an incredibly kind and selfless man who will be dearly missed by his family and friends.
Vincent's family would like to thank Season's Hospice for their kindness and compassion towards their father, granting him his wish of dying at home, surrounded by his loved ones.
Mr. Moceri's family will receive friends on Monday, November 22nd, from 2:00 p.m. – 8:00 p.m. with a 7:00 p.m. Scripture Service at McCabe Funeral Home, 31950 W. 12 Mile Road, Farmington Hills. Vincent will lie in state on Tuesday, November 23rd, at 10:00 a.m. until the time of his Funeral Mass at 10:30 a.m. at St. Edith Catholic Church, 15089 Newburgh Road, Livonia. He will be laid to rest at Holy Sepulchre Cemetery, Southfield. Memorial Contributions may be made to St. Jude Children's Hospital or Donor's Choice in his name.