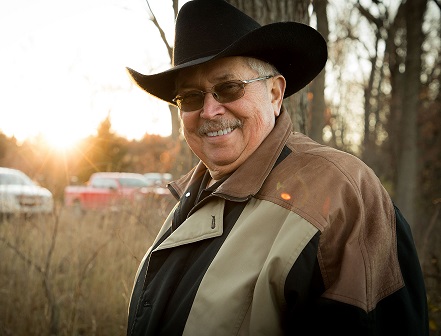 Thomas Jerome Rudnicki
March 10, 1941 - November 18, 2021
On November 18th, 2021 to our disbelief Tom Rudnicki Sr. at 80 years old left us to be with Jesus.
Tom Rudnicki, Sr. was preceded in death by his wife Sue Rudnicki, his son Jeff Scott, his parents Wanda & Robert Rudnicki and his brother Richard Rudnicki. He is survived by his children Beth & Mark Maxe, Tom & Dana Rudnicki, Jr. and his grandchildren Sarah & Jake Fields, Aaron & Jamie Maxe, Kyle & Britt Wellner, Haley & Michael Sasser, Dana Rose & Zack Franklin, Hannah & Andy Mathews and Tommy Rudnicki III. As well as countless friends who he has made family.
In Tom's early life he worked as a meat cutter at A&P while he also rodeoed ruff stock, this is where he met the love of his life Sue who was the secretary for the rodeo. Together Tom & Sue built a life full of love and adventure. Turning their passion for animals and agriculture into a lifestyle and a business.
Together they had 2 children along with many other kids they took in and fostered. During this time, they began breeding and showing performance Quarter Horses and owned and operated a large boarding facility. Tom also farmed and sold hay where he coined the CB handle "straw boss". Tom had a great ability to turn what he loved into a career and a way to provide for his family.
Along with everything he did at home, in agriculture he was also a pillar in his community. He owned and operated a small engine shop for many years and was an active participant in the Wayne County Fair Auction where is grandchildren competed. Along with his equine friends he started the TCHA a local horse show circuit that is still operating today.
You could regularly find him in the stands of his grandchildren's sporting events or ring stewarding their horse show. His later years were spent in constant company of his loved ones, he lived a life packed full of love. Tom was happiest surrounded by the people he loved regardless of what he was doing weather processing a deer, mucking stalls or taking a trip to the feed mill if he was with his family and friends he was smiling and laughing.
Tom would never say no to a beer and burger at the local pub. What he loved most was to teach anyone who would listen all the things he had learned throughout his life. The topics he loved to teach were how to care for animals, how to farm, how to properly process an animal and gun safety and maintenance. He also taught so many people how to be selfless, how to be of service to others, how not to judge, how always prioritize family first but that if you so choose anyone can be your family and most importantly how to love unconditionally.
For Tom, family means more than blood. He always left you feeling like you were at home and safe with him. Which is exemplified by the many people that chose to be his family. He will be extremely missed by many. Tom had this way of making you feel like the most special person on the planet as he put you to work. So to him we say, "with a hug and a kiss, love you bye."
Tom's family will receive friends on Tuesday, November 23rd, from 4:00 p.m. to 8:00 p.m. at McCabe Funeral Home: Canton Chapel, 851 N. Canton Center Road, Canton. He will lie in state Wednesday, November 24th, at 10:00 a.m. until the time of his Funeral Mass 10:30 a.m. at St. John Neumann Catholic Church, 44800 Warren Road, Canton. Tom will be reunited with his wife at White Chapel Cemetery, Troy.