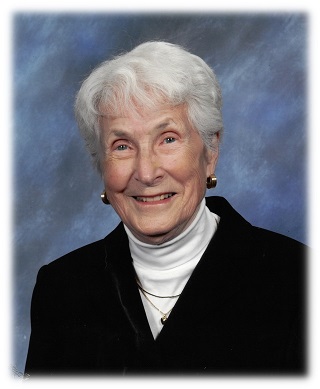 Barbara Elizabeth Oliver
September 28, 1921 - December 25, 2021
Beloved Mother, Wife, Grandmother, Great Grandmother, Sister, and Aunt, Barbara Elizabeth Oliver, 100, passed peacefully in her sleep at Fox Run in Novi, Michigan, early Christmas morning.
Barbara was born to John and Josephine Trost on September 28, 1921, in Detroit, Michigan. She married Norwood Richard Oliver on May 13, 1943. She was a loving wife and homemaker for their five children, Richard John Oliver (Beth); Catherine Elizabeth Mott (Merritt, deceased); James Peter Oliver (Diane); Peter Thomas Oliver (Kelly); Paul John Oliver (Susan). The family was thrilled to host her 100th birthday celebration just three months ago at Fox Run, where she lived since 2011.
Barbara will be remembered as a "creative" Scrabble player, baker of her famous cheesecake, pies, and sought-after oatmeal, dried cherry cookies with lots of pecans. The family all requested the cookie recipe and she would ship them to her children out of State. After requests for nearly 40 years, she finally shared the recipe, stating "it's on the container of oatmeal and I just add handfuls of cherries and nuts." Barbara loved to travel and accepted every invitation to visit friends in Canada, who have since passed, and traveled with family to Northern Michigan, Southern California, Florida, and Montana. Barbara did not lack for attention, and had a sparkle in her eye and little shimmy she did whenever someone complimented her.
Barbara definitely lived by the mantra that "cleanliness was next to Godliness" and was always eager to clean her children's closets and kitchens. While this was greatly appreciated, it always took the families a few days to find items that Barbara put "where they belonged."
Predeceasing Barbara is her husband Norwood, sisters Rosemary Kittler, Harriet Green, Bernadine Ross, Germaine Straub, Jeannette Trost, and brother, John Trost.
Barbara is survived by her five children and spouses, grandchildren John Oliver (Melissa Prudhomme), Meghan Vyletel (Andre), Michael Oliver (Angela), Mark Oliver, Jenna Hunt (Ben), Andrew Mott, Liz Kennard (Harrison), Jack Oliver (Danielle), Sarah Schock (Travis), Nora Oliver, Mike Oliver (Lindsey). "GG" (Great Grandma) was fortunate to enjoy a long relationship with her 13 great grandchildren, and many nieces and nephews.
Private services are entrusted to McCabe Funeral Home. Family requests you join them via live-stream at https://www.podiumvideo.biz/barbara-oliver.html on Tuesday, December 28th, at 11:00 a.m.. Mrs. Oliver will be laid to rest in Resurrection Cemetery, Clinton Township.
In lieu of flowers, donations will support the Child and Family Life Program at the University of Michigan CS Mott Children's Hospital . Checks may be made to "University of Michigan" and sent to the Michigan Medicine Office of Development, 777 E Eisenhower Pkwy, Ste 650, Ann Arbor, MI 48108. You may also call 734-764-6777 or visit the website victors.us/barbaraoliver to make your gift.