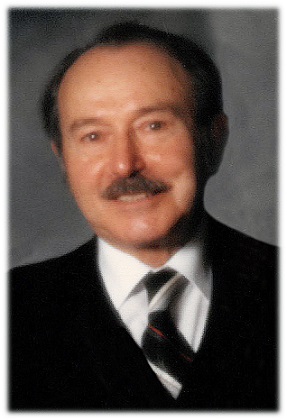 Guido Lombardi
August 10, 1914 - January 4, 2022
Guido (Guy) Lombardi was born on August 10, 1914, in Flint Michigan to Italian immigrant parents, Giuseppe and Maria. Tracing his family ancestry to Scandinavia and the Lombard invasion of Northern Italy, the name Guido Lombardi translates to "Guide of the Lombards", which was foretelling of his life as the rock of the Lombardi Family.

Several years before Guido was born, his mother, Maria, was to make the Atlantic Ocean journey to America with several female friends, each coming to America to meet their husbands who had already immigrated to the US. They purchased their tickets and awaited the day of the voyage. However, one of the women lost her ticket. An attempt was made to purchase another ticket to their ship, but none were available. Wanting to remain together, they returned their tickets for a refund, and purchased tickets to another ocean-liner. The tickets Maria and her friends returned were for the maiden voyage of the RMS TITANIC.

In 1917, Guido's family moved to California's Imperial Valley, to his uncle's ranch, where his father tried his hand at becoming a real-life cowboy. But the Lombardi's would ultimately settle in Hamtramck Michigan in 1919. It was there that Giuseppe took a job with the newly built Chevy Gear and Axle factory. Sadly, Guido's mother would pass just 8 years later. During these challenging times, his responsibilities grew to include taking on a major role in raising his younger brother, Modesto. The brothers did everything together. One November day, the two brothers walked hand in hand from their home in Hamtramck to Downtown Detroit to attend the Armistice Day parade of 1924. There, the boys had the thrill of seeing Thomas Edison, Henry Ford and Harvey Firestone, with Civil War Veterans walking close behind. As time passed, Guy learned to drive in a 1922 model T Ford, when he got his first driver's license at the ripe old age of 14 years old, which at that time was issued for life. With Guido still being in the era of silent films, he became a fan of Charlie Chaplin, and when he advanced to watching Westerns, Jack Hoxie, William S. Hart, and Tom Mix, became his childhood heroes. Later on, John Wayne was to become his favorite western star. Guido also loved to read and would complete a book a night throughout his youth, and especially enjoyed the works of Zane Gray and Louis L'Amour.

In High School, he excelled in athletics, including track and field. As president of Hamtramck High School's graduating class of 1933, Guido received a college scholarship, but alas had to enter the workforce straightaway. For the necessity and benefit of his family, he joined his father at the Chevy factory. Five years later, Guy would meet the love of his life, Adelia. The two dated for a couple of years before they were married in 1939. Their love continued to grow as they were blessed with four children and just shy of 65 years of marriage before Adelia's passing in 2004. Guido worked hard for his family and never took a day off from work. He continued to devote 47 years to Chevrolet Gear and Axle until his well-deserved retirement in 1980.

Truly, there was nothing Guido couldn't do. Things seemed to come to him naturally and effortlessly. He was a remarkably intuitive man, teaching himself anything he decided to conquer. A true renaissance man, Guido built six houses from the ground up throughout his lifetime, including two of his own in both Detroit and Novi, one for his daughter, and another for his cousin. With just a hammer in one hand and a saw in the other, Guido took on all aspects of home building. When it came time to handle the plumbing and electricity, Guido would never think to call out for help. He would just assume he could learn how to do the task at hand by reading a book, and he always did. With a career in the automotive industry, it was no surprise that he would know all things about cars as well. He was his own mechanic and anyone else's that asked. His vast knowledge in mathematics always helped him to figure things out. Doing everything for himself and his family, still Guido would always make time to do for others as well.

How Guido ever had the time for himself while working full time, building houses, and tackling endless projects, was remarkable. But indeed, he did find some time to relax and develop various hobbies. He took up photography, even building his own darkroom and would make the most beautiful cases for his cameras. He was also a popular and beloved Boy Scout Master. He continued to read about anything and everything. Ask anyone who played a card game with Guido, and they would tell you his strategies and Gin Rummy skills were unmatched. Throughout his whole life and right up to his 107 years, Guy's mind was as sharp as a tack. His memory never failed him, and he always had a joke ready to pull from the vast library of his mind. As a longtime member of the Italian American Club, there Guido enjoyed his milestone 100th birthday party. Family and friends from all over, came to celebrate this most beloved man.
Everyone loved Guy. He was genuinely everyone's favorite person. Never making a single enemy, people would find themselves gravitating towards Guy's warm and vibrant energy. He made many lifelong friends because he never met a stranger. He was a true good man who never swore, complained, found fault, or criticized anyone. Having the relationship he did with the Lord, he never worried because he never felt he had to. The world was a brighter place for 107 years because of Guido, and many are left brokenhearted by his passing. His legacy and the memories he's left will remain to be cherished by all who knew him, especially by his loving family.

Guido was the beloved husband of the late Adelia Ellero Lombardi. Loving father of Gino, Susan (Walter) Zambelli, Dennis, and the late Guy Jr. (Carol). Proud grandfather of Dino (Candi) Zambelli, Nicole (Sean) Carlson and Jim (Catherine) Lombardi. Great-grandfather of Adelia, Rena, Leana, Caiden, Dominick, Gabriella and Marcus. Dear brother of Mario, the late Modesto, and Guilio.

Due to the Covid situation, services for Guido will be held privately. In lieu of flowers, memorial donations in his name are appreciated to St. Jude Children's Research Hospital.