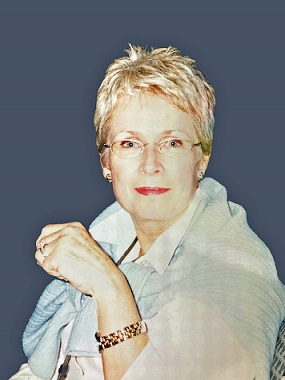 Leah Vallot Lieberman
November 8, 1946 - December 22, 2021
Leah Vallot Lieberman, 75, our beautiful mother, passed away peacefully on the evening of December 22, 2021, from Dementia. Taken far too young, she was surrounded by her loving family at her son, David's, home in Farmington Hills, Mi.
Leah was born on November 8, 1946, to Clifford Thomas Vallot and Katherine Herman Vallot in Port Sulphur, Louisiana. She grew up in New Iberia, La. and was the oldest and only daughter of five children. She attended Mount Carmel Catholic Girl's School graduating in 1964. She was briefly married to Dudley P. Spiller and had her daughter, Stephanie. She subsequently married R. David Sculati, had her son, David John and settled in Arlington, Texas. There Leah was a stay-at-home mom, attended University of Texas Arlington for Interior Design and started her own business, Designs by Leah.
Leah's family had ties to both South Louisiana through her father's Vallot family heritage and Central North Carolina through her mother's Herman family ties. She spent much time throughout her life visiting both family homesteads.
In 1984, Leah and her son David, relocated to Dearborn, Michigan where she continued her Designs by Leah interior decorating business, specializing primarily in upholstered walls and draperies. In addition to having her own clients, she was hired by many other designers for her upholstered wall treatments. She was a masterful artist and a perfectionist when it came to her work. She chose to do all her walls herself and spent countless hours on her ladder working late into the night to get the job done.
In 1989, Leah's son David, went to an inpatient treatment program for alcohol & drug addiction. She decided to also start attending Alcoholics Anonymous (AA). Over time, AA became an important part of her life and she developed some of her closest and longest friendships in the fellowship. She was an active member and maintained her sobriety for 32 years until her death.
In 2001, Leah married Albert Lieberman and they had 20 years together in Dearborn, MI.
She was a dedicated and loving wife, mother, grandmother, sister, aunt and friend. She is survived by her husband Albert Lieberman, her daughter, Stephanie Driver (husband Kirk), grandchildren Ace (23) and Christen (19); her son, David Sculati (wife Carrie), grandchildren Eleanore (19) and Anderson (17). Leah is also survived by her brothers, Tim Vallot, Frank Vallot (wife Barbie) and numerous nieces and nephews, all of whom she loved dearly. She is preceded in death by her parents, Cliff and Katherine Vallot, brothers, Reginald (Reg) Vallot and Bernard Vallot.
A visitation and memorial service will be held in honor of Leah on January 29, 2022 with visitation from 2:00 p.m. - 4:00 p.m. followed by her Memorial Service at 4:00 p.m. at McCabe Funeral Home, 31950 W. 12 Mile Rd., Farmington Hills. Leah will be laid to rest with her family at The Mays Chapel Church Cemetery in Maiden, North Carolina.
In lieu of flowers, donations may be made to the Friends for Animals of Metro Detroit via https://www.metrodetroitanimals.org/. In the memo line, please note In Memory of Leah Vallot Lieberman