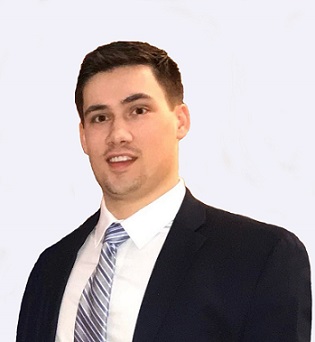 Stephen Hugh Coulter, Jr.
January 9, 1996 - January 26, 2022
Stephen Hugh Coulter Jr. of Farmington Hills, Michigan, was 26 years old when he passed away on Wednesday, January 26th, 2022.
Stephen was born on January 9th, 1996, to his loving parents, Steve and Barb Coulter. He attended St. Fabian Catholic School, graduated from North Farmington High School, and received an Accounting degree from Roosevelt University. He lived with the love of his life, Bria, and their dogs, Diesel and Veda, in downtown Chicago. He was surrounded by his adoring parents, best friend sister, and amazing friends.
Stephen was an accomplished athlete, wanting to play every sport just like his dad, especially loving hockey. He learned to skate right after learning to walk. His long career started out at Suburban Mini Mites, to travel teams, then North Farmington High School Team, continuing to his junior's team in Alabama, and finishing his career playing College Hockey and Lacrosse for Roosevelt University. Stephen was always a fighter, on and off the rink, fighting and beating cancer. The tight knit hockey community created countless teammates that turned into his lifelong friends.
Stephen is survived by his parents, Steve Sr. and Barb Coulter; sister Makenzie Coulter; aunts and uncles, Tom (Natalie) Shelton and John (Sandy) Coulter; cousins Nicole Edwards, Renee Shelton, Erica Shelton, Jessica Murphy, Alexander Coulter, Kristin Felsner, Cash Edwards; and godson Jordan Edwards.
Stephen's family will receive friends on Friday, February 4th, from 2:00 p.m. - 8:00 p.m. with a 7:00 p.m. Rosary Service and Time for Sharing at McCabe Funeral Home, 31950 W. 12 Mile Rd., Farmington Hills. Stephen will lie in state Saturday, February 5th, at 10:00 a.m. until the time of his Funeral Mass at 11:00 a.m. at St. Fabian Catholic Church, 32200 W. 12 Mile Road, Farmington Hills. He will be laid to rest next to his family at Resurrection Cemetery, Clinton Township.
In lieu of flowers, Memorial Contributions to the Leukemia and Lymphoma Society: Michigan Region, Leukemia and Lymphoma Society, Central Region, PO Box 772395, Detroit, MI 48277-2395 are appreciated.