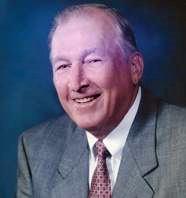 John "Jack" Hastings
October 14, 1931 - March 26, 2022
John "Jack" Hastings passed away on March 26th surrounded by family. He was born in Riverside, Ontario Canada on October 14, 1931, the second of six children of William and Helen (Dawson) Hastings. His childhood was marked by rough and tumble play with neighborhood friends and many odd jobs including hauling ice, farm work and bartending. A hustling entrepreneur from his earliest working days, Jack relished making more money in a day than his father -- even as a teenager.
After high school Jack enlisted in the Royal Canadian Navy where he served honorably and starred on both the military football team (as a strapping tight end) and basketball team (as an intimidating power forward). He was stationed in Nova Scotia where he spent the first years of his marriage and welcomed his first child, Janice. After his military service, Jack embarked on a career that started with his purchase of a gas station/car repair business, then selling typewriters and ended up founding Business Products, Inc., based in Southfield, MI, a computer sales and service business that competed with the biggest tech companies in the country. Although he never had any formal business education Jack was a brilliant businessman with the ability to see opportunities and execute on them and adapt to new market conditions. Although, his career was marked by great success he took greatest satisfaction in the opportunity to provide jobs for many and to help those in the community (especially kids) with the greatest needs.
Despite great professional success, Jack's greatest love and pride was his family. In 1952 he met a beautiful young swimmer named Janet Caza who he accurately noted had "nice pockets." He married Jan in 1953 and that marked the beginning of a nearly 70-year love story that produced 7 kids, 10 grandkids and 2 great grandkids. The family had many memorable vacations packed into a station wagon with 7 kids and a dog and never missed a holiday celebration with a house filled with love and laughter. Jack and Jan had a group of great friends who loved to socialize and play cards and celebrate the joys and support the sorrows of family life.
Jack was a man of Catholic faith and rarely missed Sunday mass. He relished a good game of golf, a bowl of fresh strawberries and watching his grandkids play hockey. He never had any confusion about what really matters in life – and his life is marked most by his caring for and support of others. From the Tecumseh youth hockey league he helped build and supported to the Christmas baskets he and Jan delivered to families in need to his unwavering support for any family member at any time – he lived a life of unselfishness and care. He was a family man and standup guy in every way – and there will never be another one quite like Jack Hastings.
Theodor Geisel (Dr. Suess) once magically noted that in times of loss – we should not just cry because it is over – but also smile that it ever happened at all. Losing Jack Hastings saddens all who knew him. But for those in his family, his many friends, and the wide network of people he coached and mentored, we are also smiling today that there ever was a Jack Hastings – and that he was ours.
Jack is survived by his wife of 69 years, Janet.
His children Janice Hastings, Beth (Jim) Case, MaryLynn Hastings, Huck (Susan) Hastings, JoEllen (Tim) Baldwin, Laurie (Jeff) Sullivan and Jack T. (Robin) Hastings; his ten grandchildren; and two great grandchildren, that he loved dearly. He is also survived by his younger sister, Cathy Little. Jack is predeceased by brothers Bill, Ted, Dan and Robert.
Jack's life will be celebrated on Friday, April 8th, with his Memorial Mass beginning at 11:00 a.m. and a gathering before at 10:30 a.m. at St. Fabian Catholic Church, 32200 W. 12 Mile Rd., Farmington Hills, MI 48334.
In lieu of flowers, memorial donations are appreciated to Wounded Warrior Project.