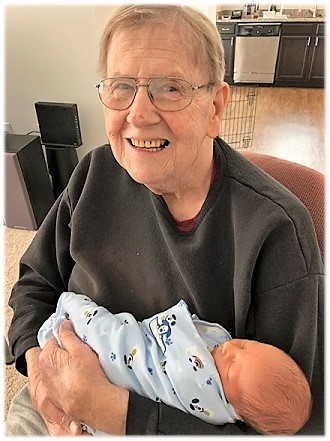 George Uridge
February 8, 1939 - July 5, 2022
George Harry Uridge, age 83, passed away on the morning of July 5, 2022. He was born in Detroit, Michigan on February 8, 1939 to Philip and Jennie (Ogren) Uridge.
George proudly served in the United States Navy and had a successful career in the printing industry. As a Lifetime Member of the Farmington Players Barn Theater, George had a passion for acting and was happiest when on stage. He loved to travel around the globe, especially to tropical destinations or visiting family members all around the globe. Closer to home, he looked forward to spending time Up North and was a member of the Lost Lake Woods Club in Lincoln, Michigan spending most of his life enjoying both the pristine nature and his family there together.
George appreciated little things in life as well, like going out to eat and enjoying a spicy Bloody Mary. Above all else, time spent with family was most important to George. The day he became a grandfather was his proudest and his grandchildren were truly the apple of his eye. He will be deeply missed by his dear family and friends.
George was the beloved husband of Judy. Loving father of Shawn Uridge and Laura (Andrew) Gordon. Proud grandfather of Calvin and Madison Gordon. Dear uncle to James Uridge, Sandra (Dan Walker) Bryant, Kim Uridge, Philip Bass, Ted (Brittany Almire) King-Smith, Ben King-Smith, David Werner, Jonathan Werner, and Arielle Werner. He was predeceased by his brothers Philip and Carl Uridge.
A committal service for George will be held on Saturday, July 9th, at 11:00 a.m. at Oakland Hills Memorial Gardens, 43300 W. 12 Mile Rd., Novi. A celebration of his life will follow at 12:30 p.m. at North Congregational Church, 36520 W. 12 Mile Rd., Farmington Hills. Dress should be extremely casual and in line with how comfortable and relaxed George liked to live his life.
George's celebration of life will be live streamed, as well as made available to watch following services, at the following link: Celebration of Life - George Uridge
In lieu of flowers, donations in George's name are appreciated to North Congregational Church or a charity of your choice. The Uridge family appreciates all expressions of sympathy by card, which can be sent to Judy at home or to North Congregational Church, where they will make sure the cards are forwarded on.