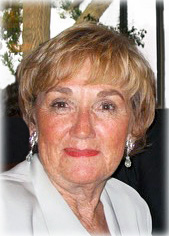 Donna Jo Cullen
December 11, 1937 - July 7, 2022
Donna Jo Marie Cullen, age 84 of Farmington Hills, passed away July 7, 2022. She was born in Detroit, Michigan on December 11, 1937 to Don and Josephine Ellison.
Donna Jo was raised in Berkley, where she was a graduate of their high school. Growing up, she was an athletic girl and especially loved to tap dance. Standing out with her beautiful red hair, Donna Jo's personality seemed to match, as she was always a bright and upbeat person that everyone wanted to be around. In the likeness of Doris Day, she was talented, fashionable and loved to be social.
In April of 1957, Donna Jo joined friends at Tony's Bar and bowling alley. It was there that she met Jerry Cullen, the man who would become her best friend and the love of her life. The two married in April of 1961 and officially began their life's journey together. As Jerry worked hard to provide for the household, Donna Jo took care of the home and their four children. They were the perfect team and set an amazing example of how important a nurturing and loving family is.
Once the Cullen children were grown, Donna Jo kept busy with a few part-time jobs and even picked up tap dancing again. She was a member of an area senior group and looked forward to performing in their shows. Donna Jo continued to remain active and developed a passion for golf. She not only loved the game but was really good at it as well. She even had a Hole In One trophy to prove it. Donna Jo and Jerry spent most of their winters in Florida but always appreciated coming home to Michigan to reconnect with family and friends. Their enjoyment and gratitude for life always came from the experiences rather than the tangible things. Faith was also important to Donna Jo, as she was a longtime parishioner of St. Fabian Catholic Church. Although she has been reunited with her dear husband and son, Donna Jo will truly be missed by all who knew and loved her.
Donna Jo was the beloved wife of the late Jerry for 60 years. Loving mother of Treacy (Andrew) Ruggirello, Brigid Cullen, Lesley (Nishan) Beylerian, and the late Patrick Cullen. Proud grandmother of Brendan Unger, Connor Unger and Charlotte Beylerian. Dear sister of Linda Christensen and the late John Ellison.
A Memorial Mass for Donna Jo will be held on Friday, July 15th, at 11:00 a.m. with gathering beginning at 10:30 a.m. at St. Fabian Catholic Church, 32200 W. 12 Mile Rd., Farmington Hills.
In lieu of flowers, memorial donations in Donna Jo's name are appreciated to Alzheimer's Association.