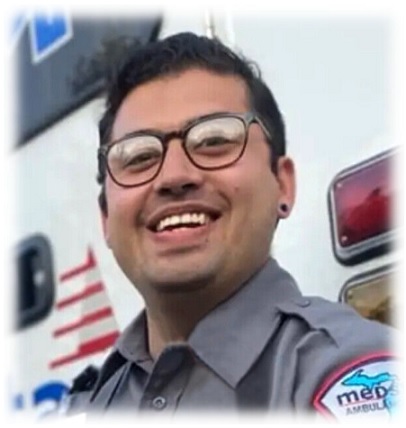 Michael Omar Hernandez
August 9, 1989 - September 8, 2022
Michael Omar Hernandez, age 33 of Berkley, passed away September 8, 2022.
He was a loving and devoted father to his beautiful children, Rowan, 7 and Liliana, 4. In the brief time he had with them he taught them how to express themselves without fear, how to be curious and to always ask questions. Michael would take long walks with Liliana telling her stories of his childhood and spent time with Rowan playing games, riding bikes and snowboarding. He took the time to explain things to them and was always present for the little things that mattered.
From an early age, Michael was a very passionate person who loved learning new things and was an avid reader, attaining a knowledge that was wide and diverse. He was also a very compassionate man who loved to help people and would talk to anyone in need of comfort. Michael was a paramedic with Medstar, a former member of the Army Reserve, a comedian, philosopher and lifelong learner who always searched for the answers. He will be deeply missed by all knew and loved him.
Michael was the devoted father of Rowan and Liliana, with their mother, Traci, still surviving. Loving son of Omar and Lenamarie Hernandez. Dearest brother of Jessica (Kyle) Straka. Proud uncle of Stella Straka. Cherished grandson of Serafina (the late Nicasio) Hernandez and Frank (the late Stella) Alcala, Sr. Nephew of Cecilia (Dino) Benedict, Susi (Ignacio) Cruz, Frank (Lucy) Alcala, Jr., Marci (Scott) Shine and cousin of Frank III (Katie) and Marcos Alcala, Gabriela (Eli) Alcala-Levin, Dominik (Taylor) and Cecilia Shine, Gabriel and Lucas Cruz. Michael is also survived by countless friends.
Visitation for Michael will be held on Thursday, September 15th, from 2:00 p.m. to 8:00 p.m. with a Rosary Service at 7:00 p.m. at McCabe Funeral Home, 31950 W. 12 Mile Rd., Farmington Hills. He will lie in state Friday, September 16th, at 10:00 a.m. until the time of his Funeral Mass at 10:30 a.m. at Basilica of Ste. Anne de Detroit, 1000 St. Anne Street, Detroit. Michael will be laid to rest in Woodmere Cemetery, Detroit.