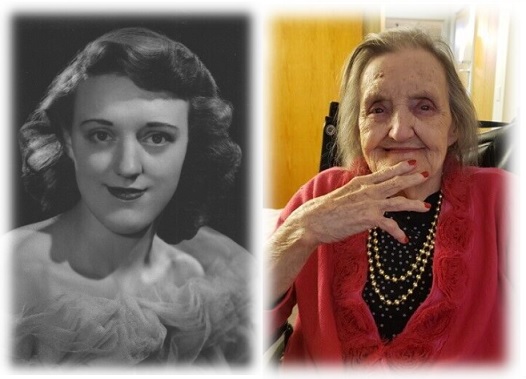 Betty June Shough
January 29, 1928 - September 16, 2022
We are sad but also filled with gratitude and relief to report the death of Betty June Shotwell Shough on September 16, 2022, at age 94 in the nursing home where she had resided for 5 years.
Betty grew up in Kingston, Pontiac, and Waterford, Michigan. Her mother was Esther Wenzloff Shotwell and her father was Stewart Shotwell. She was a pioneer for a woman of her time and moved to Chicago with a friend after graduating from Pontiac High School. There she had a variety of jobs including hat check girl and switchboard operator. She later moved with friends to Tuscon and then Los Angeles, working as an airline reservation agent.
In 1951 she was living temporarily in Detroit so that she could be closer to her father who was dying. While there she met a tall and handsome young man named Virgil. They fell in love within a few weeks, and after she went back to Chicago, Virgil proposed and they were married in Pontiac in May of 1953.
Betty and Virgil were thrilled to be able to purchase a small new house in Oak Park and welcomed their first child, David, in 1954 and Denise in 1955; the family moved to Royal Oak a few years afterward and lived there (apart from two temporary job transfers) until Denise and David graduated high school. In 1973, Betty and Virgil moved to Louisville KY, where they lived for over thirty years.
Betty and Virgil built a wonderful life full of friends, family, and eventually world travel. Virgil passed away in 2015.
Betty held many jobs over the years and her income was saved to pay for college for David and Denise.
Among Betty's favorite things were reading, bridge, aerobics and water aerobics, travel, her grandchildren and great grandchildren, and chocolate and all other sweets.
We thank the staff of West Bloomfield Nursing for their loving care for 5+ years. Eternal gratitude goes out to Rose Karadelia who was Betty's loving companion at the nursing home 7 days a week for more than 5 years. She cherished Betty in a very special way and brought so much love and joy to her in difficult times.
Betty is survived by her sister Janet (John) Barden, her children David Shough and his wife Barbara Pontecorvo, Denise and Jamie Jacob, her grandchildren Rebecca (Mike) Fellenbaum, Nicholas (Kate) Jacob, and Megan (Brad) Fenkell, and her great-grandchildren Clara, Sidney, Benjamin, Emi, and Sonny. There will be a private family service and burial in Kingston, Michigan. To honor Betty please indulge in her favorite things, a good cup of coffee and a hot fudge sundae.