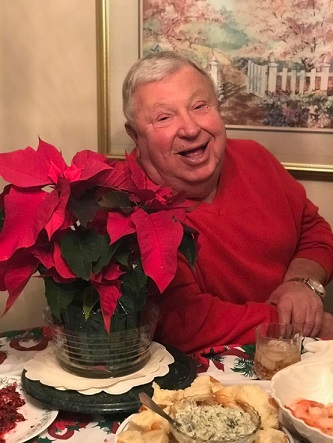 Cas Szczepanik
December 16, 1935 - September 16, 2022
Cas Szczepanik, age 86 of Farmington Hills, passed away September 16, 2022.
Cas Szczepanik—known to his many Polish friends as Kazik—was, above all, a good and decent man. A loving husband, father and grandfather, and a loyal, generous friend to many. Like other Polish immigrants of his generation, including some who are here today, Cas had endured more than the average person's share of hardship and loss during the Second World War, the most devastating war in history.
He was born in Lwow in Poland on December 16, 1935, that is in Ukraine today. He was just three years old when the war began in September 1939. While the western half of Poland was invaded by Nazi Germany, the eastern half was invaded by the Communist Soviet Union. Cas' father was arrested by the Russians and sent to the desolate wastes of Siberia. Five months later, in February,1940, the family, including Cas and his mother, were taken from their home, packed into freight cars, and, like tens of thousands of other Poles from the Soviet-occupied half of Poland, also shipped to a Siberian labor camp.
For a year and a half, the family lived and worked under primitive and cruel conditions in the Siberian wastelands. They were finally set free in 1941, after Nazi Germany turned against its Russian allies. But the family's sudden freedom signaled the start of a new ordeal. During a long and harrowing march out of the Soviet Union, Cas's grandparents, like many others, died of illness and exhaustion. He watched as his mother helped bury them. Finally, the Polish refugees reached Iran, also known as Persia at the time. There they were met by the British army, which, along with the Iranian people, provided them with shelter and sustenance as they recovered from their ordeals.
Like many other Polish men—and many women, Cas' father left to join the newly formed Polish army. He would go on to fight against the Nazis in Italy. A couple of years later, in 1943, Cas and his mother were sent by the British to Zimbabwe—then called Rhodesia—in southeast Africa. There they and other Poles, mainly mothers and children, lived in small huts. By now, Cas was seven years old, and he often regaled his friends with stories of life in the refugee camp, which, through the eyes of an adventurous young lad, he recalled fondly. He also praised the local people for their generosity and friendliness toward the Polish refugees.
After the war, Cas and his mother were taken to England, where they were happily reunited with Cas' father. Sadly, Cas' parents were unable to return safely to Poland, which was now under Communist control and where Cas' father, as a former Polish soldier fighting with the British, would likely have been arrested—or worse—as a "traitor."
Cas completed his schooling in England and an apprenticeship in Rugby. In the late 1950s, he and his parents sailed to America aboard the QE2.
After arriving in America, he met and married his first wife Irma Pachana and raised his two children Annette and Ed Szczepanik.
He completed a Bachelors Degree in Engineering at Lawrence Tech and began his career at Chrysler Motors retiring in the year 2000 after over 30 years of service.
In 1989, he began the second half of his life with his best friend and travel companion Wanda. Their travels took them to many countries such as Nice, France; London, England; Australian, the Maldives, Dubai, Cancun, Mexico, and the list goes on and on.
In the second half of this adventures in life, he was able to branch out and embrace new family and friends. He met many new life long friends through his travels as well as connecting with new friendships on Facebook. He shared laughs, stories and made many memories with people from around the world.
A loyal American citizen, Cas also lived his life as a patriotic Pole. He never stopped loving the land of his birth and he reveled in celebrating his Polish heritage and never forgot his wartime experiences. He talked about them often, sometimes fondly and amusingly, sometimes with sadness. As he said, he had seen some terrible things and he continued to think about them. Nevertheless, Cas managed to put those memories aside for the most part, not letting them stand in the way of happiness. He maintained, and was widely known for, his remarkable sense of humor and his enjoyment of life. He had many friends and always took great pleasure in associating with them.
Those friends returned his affection. They also respected and enjoyed his intellect and wide range of interests. Cas was one of those people with whom you could have an intelligent and enjoyable conversation about almost any topic. And everyone who knew him cherished his lively spirit and infectious laughter.
Cas loved life, loved people, loved his adopted country, loved Poland, his children, his step-children, his grandchildren and most of all his best friend and wife Wanda. In return, people loved him.
Cas is survived by this loving wife Wanda, his children Annette (Waldek) Raczkowski, Ed (Sharon) Szczepanik, Halina (Tony) Jankiewicz, Greg (Molly) Rej. Grandchildren Anthony Szczepanik, Stefanie Jankiewicz, Carolina Raczkowski, Joseph Szczepanik, David Szczepanik, Victoria Raczkowski and Millicent Rej. Also many cousins in Poland and England.
Mr. Szczepanik will lie in state on Thursday, September 22nd, at 9:30 a.m. until the time of his Funeral Mass at 10:30 a.m. at St. Fabian Catholic Church, 32200 West 12 Mile Road, Farmington Hills. Mr. Szczepanik will be laid to rest in Roseland Park Cemetery, Berkley.
In lieu of flowers, memorial contributions may be directed to St. Jude Children's Research Hospital.