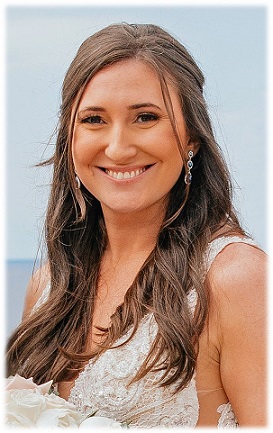 Karen Marie Boehne
September 15, 1989 - December 24, 2022
Karen Marie Boehne passed away unexpectedly on December 24, 2022 at the age of 33. She was the loving wife of the late Jeremy; devoted mother of the late Baby Boy Boehne; cherished daughter of David (Sharon) Hahn and the late Kimberly Siegrist; caring sister of Amy (Jim) Ross, Adam (Sarah) Lane, and the late Lauren Hahn; and loving aunt of James, Ryder and Annabelle Ross. Karen also leaves behind her beloved in-laws; Mary Boehne (nee Spencer) and David (Kathy) Boehne; Jeremy's siblings, Joy Boehne, Maria (Joel) Santure, Erica (Trevor) Timmons and Brian (Yianni Stathis) Boehne; and his nieces and nephews, Spencer, Thomas, Brayden, Quinn, Bryn, and John. Karen was a dear niece, cousin, and friend to many.
Karen graduated from Hartland High School in 2007 where she was strong in her academics as well as a skilled volleyball player and cheerleader. Karen went onto attend Grand Valley State University in Allendale, completing her Biomedical Science Degree in 2012. While studying at Grand Valley, she was a member of the Sigma Kappa Sorority, Kappa Beta Chapter and was highly involved in their events.
Karen worked with Opus IVS in Dexter, Michigan as Director of Human Resources & Recruiting. She was an instrumental leader with the company working with all teams and executive leadership. She truly enjoyed working with her coworkers and will be dearly missed by everyone she worked with.
Karen loved fashion and accessories; shoes, clothes and purses were her favorites. She was highly photogenic, never shy when posing for a picture. Karen loved spending time with her family, especially her nieces and nephews. She enjoyed having fun with them, watching Disney movies and sharing about their days.
Most of all, Karen was very excited to be married to Jeremy and build their life and family together. They rejoiced in building their nursery as they were expecting their first baby boy in the Spring. Karen's warmth and kindness will be deeply missed by her beloved family and friends.
Visitation for Karen will be Saturday, December 31st , from 2:00 p.m. – 8:00 p.m. at McCabe Funeral Home, 31950 W. 12 Mile Rd., Farmington Hills. Her viewing will continue on Sunday, January 1st, from 1:00 p.m. - 8:00 p.m. with her Funeral Service at 5:00 p.m. also at McCabe Funeral Home. A Celebration of Life will be held on June 4, 2023. In lieu of flowers, Memorial Contributions may be made to C.S. Mott Children's Hospital, Michigan Medicine Office of Development, 777 East Eisenhower Pkwy, Ste. 650, Ann Arbor, Michigan 48108. https://victors.us/boehne-memorial