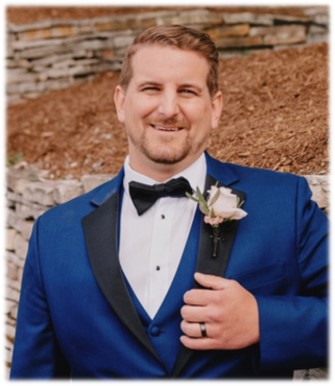 Jeremy David Ralph Boehne
January 25, 1990 - December 24, 2022
Jeremy David Ralph Boehne, age 32 of Farmington Hills, Michigan, passed away unexpectedly, on Saturday, December 24, 2022, Christmas Eve morning. His beloved wife, Karen Boehne (nee Hahn) and unborn son, passed away as well. Jeremy and Karen were married on June 4, 2022. They had been together for 10 years.
Jeremy leaves behind his beloved mother, Mary Boehne (nee Spencer) and father, David (Kathy) Boehne. Jeremy is also survived by his loving siblings, Joy Boehne of Wixom, MI, Maria (Joel) Santure of Fenton, MI, Erica (Trevor) Timmons of Brighton, MI, and Brian (Yianni Stathis) Boehne of Royal Oak, MI; his six nieces and nephews, Spencer, Thomas, Brayden, Quinn, Bryn, and John; and his numerous aunts and uncles, cousins, in-laws and good friends.
Jeremy grew up in the Livingston County, Michigan area and attended Our Savior Evangelical Lutheran Church and School in Hartland and Hartland High School where he was a strong basketball, soccer, and track athlete. Jeremy was a hard worker, often working for his Uncle John Spencer in the home construction field and for the past several years, he worked in the medical gas industry in Michigan. Jeremy was a huge U of M Wolverines football fan and would go to the Big House for a game whenever possible. Jeremy so enjoyed the great outdoors and often would venture to the Upper Peninsula, Up North, and to the western portions of the state of Michigan.
Jeremy cherished his family and friends and all the fun times they had together. Above all, to Jeremy, the Love of the Lord was most important. He found comfort, hope, love, forgiveness, and peace in Him, The Triune God.
Visitation for Jeremy will be Saturday, December 31st , from 2:00 p.m. – 8:00 p.m. at McCabe Funeral Home, 31950 W. 12 Mile Rd., Farmington Hills. His viewing will continue on Sunday, January 1st, from 1:00 p.m. – 8:00 p.m. with his Funeral Service at 5:00 p.m. also at McCabe Funeral Home. A Celebration of Life will be held on June 4, 2023. In lieu of flowers, Memorial Contributions may be made to C.S. Mott Children's Hospital, Michigan Medicine Office of Development, 777 East Eisenhower Pkwy, Ste. 650, Ann Arbor, Michigan 48108. https://victors.us/boehne-memorial