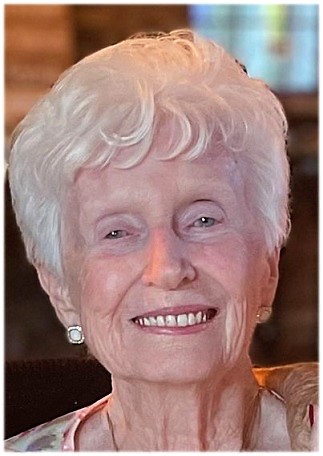 Anne Marie Mallia
February 18, 1937 - December 28, 2022
Anne Marie (Holland) Mallia, a resident of Plymouth, passed from this life on December 28, 2022 at the age of 85. Anne Marie was born on February 18, 1937, in Ionia, Michigan, to Raymond and Marian Holland. She grew up in the Grand Rapids area before moving to the Detroit area. In 1955, Anne Marie graduated from Holy Redeemer High School and worked at Greenfields Restaurant before marrying her beloved husband.
On October 20, 1956, Anne Marie married Fred Mallia. They lived together in Dearborn Heights where they raised their four children. She proudly worked at McDonald's on Telegraph Road in Dearborn Heights for 19 years. In 1986, Fred and Anne Marie moved to Higgins Lake, Michigan, where they lived until they returned to the Plymouth/Livonia area in 2013.
Anne Marie was predeceased by her parents and husband Fred; sister Margaret Holland; brother Patrick Holland and grandson Michael Mallia; brother-in-law George Mallia and sister-in-law Nancy Mallia.
She was a loving, caring wife, mother and grandmother and great-grandmother. She is survived by her children Kathy (Roy) Wagener, Fred (MaryBeth), Bob (Kelly), and Paul. Anne Marie will be dearly missed by her grandchildren Lindsay (Cooper) Brannan, Stacy (Patrick) Gerhardt, Brian, Austin, Colton, Blake, Brianna (Brad) Vaughn, Michael and Jeremy, as well as her 7 great-grandchildren. She leaves behind her in-laws, Sam and MaryAnn Camilleri, Joe and Georgine Mallia, John and Marie Mallia, and many loving nieces and nephews. Ann Marie will truly be missed by her family and friends.
Family and friends are invited to say their final goodbye to Anne Marie on Thursday, January 5, 2023 from 2:00 p.m. until 8:00 p.m., with a 6:30 p.m. Scripture Service at McCabe Funeral Home, 851 N. Canton Center Rd., Canton. She will lie in state on Friday, January 6, 2023 at 10:00 a.m., until the time of her Funeral Mass at 10:30 a.m., at St. Thomas a'Becket Catholic Church, 555 S. Lilley Rd., Canton.
In lieu of flowers, donations in Anne Marie's name are appreciated to St. Jude Children's Research Hospital.