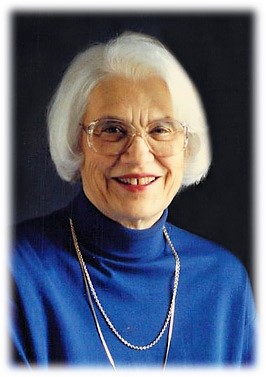 Betty Jane Dresser
February 8, 1924 - January 5, 2023
Betty Jane Kracklan Dresser, age 98, passed away Thursday, January 5, 2023, at Beaumont Commons in Farmington Hills, Michigan. She was born February 8, 1924, in Detroit, Michigan, a daughter of Adolph and Mary (nee: Johnson) Kracklan.
Betty was the beloved wife of David Ray Dresser for 69 years, before David passed away in 2018. They made their home in the metro Detroit area since 1963. Betty greatly loved her children: David P. (Margaret) Dresser and Peter D. (Lisa) Dresser — and the late Stephen Dresser and Mary Dresser. She was the proud grandmother of John (Amy) Dresser, Stephen Dresser, Daniel (Elizabeth) Dresser, Benjamin (Kristin) Dresser, Joseph Dresser, Samuel Dresser, and the great-grandmother of five.
Betty graduated from Wheaton College and The Biblical Seminary in New York. She served as a faithful member and Bible teacher at congregations where her husband served as pastor in Pennsylvania, at Ward Memorial Presbyterian Church in Detroit, and at Vineyard Christian Fellowship of Metro Detroit. Betty was an active member of Metro Detroit Christian Church until her passing. Betty was a life-long student of the Scriptures and had a genuine love for God and faith in Jesus. She enjoyed watching the news and professional sports. Betty loved people and greatly enjoyed serving them a meal at her home, listening as they opened up their heart, sharing wisdom from the Bible, and playing games.
Visitation will be held on Wednesday, January 11, 2023, from 2:00 - 8:00 P.M. at the McCabe Funeral Home, 31950 W. 12 Mile Rd., Farmington Hills, MI. Instate on Thursday, January 12, 2023, at Metro Detroit Christian Church, 6655 Middlebelt Rd., West Bloomfield at 10:30 A.M. until the time of the funeral at 11:00 A.M. Burial will be at a later date at Great Lakes National Cemetery, Holly, MI.
Memorial contributions may be made to the "School of Formation Scholarship Fund," with checks made to "Metro Detroit Christian Church." The School of Formation, a ministry of Metro Detroit Christian Church, is carrying on Jesus' mandate to make disciples and Betty's passion and legacy to equip people to study the Scriptures and encounter Christ.