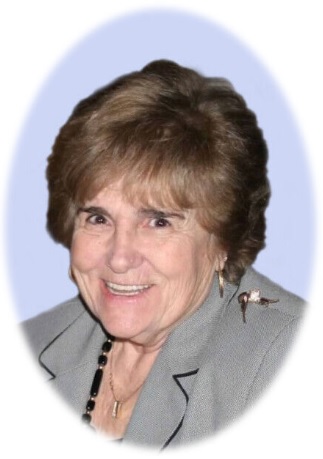 Irene M. Zervos
May 6, 1936 - January 6, 2023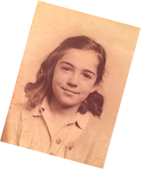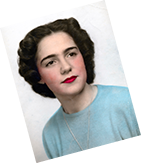 Irene was born at home on May 6th, 1936 in the humble town of Weirton, West Virginia. She grew up in Murfreesboro, North Carolina, a small, Andy Griffith Show-esque country town. Her parents were the sweet Southern belle Maria, and her father was Stamatis "Sam", a hard-working restaurant owner. Her family was well-known around town, especially her father, whom she inherited her generous spirit from. With an enthusiastic and fun-loving father and a sweet and kind mother, Irene had a childhood filled with love and adventure.
Irene grew up with seven siblings: Michael, Constantinos, Nicholas, Fotini, George, John, and Vasilios. From her mother's loving guidance, Irene learned how to become a proper lady and a good wife. Despite her mother's ladylike teachings, Irene couldn't hide her tomboy side. She would help her six brothers by skinning and cooking the fish and animals they brought home. She loved to both fish and play basketball. Before one of her first days of school, she received a brand new dress that she was incredibly excited about. Her tomboy adventures, though, left her new dress caked in mud for which she found herself in big trouble with her parents.
Irene married Michael Zervos on June 6, 1954, at the age of 18 years old, and they were married for 64 years until Michael's passing. Her family knew of Michael's, and together, they decided that the two would be a great match. They honeymooned in Florida and purchased their first home in Pittsburg, Pennsylvania near his family. Together, they built a home and found love and companionship over their six decades together along with their three boys, Angelo, Stephen, and George. They relocated to Detroit to follow Michael's wishes and soon Irene had a house full of three babies, with nothing to their name besides a poker stand acting as a kitchen table and three cribs. At night, she would secretly work making sandwiches to supply extra income, but was always back in time to have breakfast ready for her husband, in-laws, and children. She was incredibly devoted to her family and would do anything for her husband. Irene was the perfect traditional Greek wife.
Irene was a devout Greek Orthodox Christian and was a major part of establishing her beloved parish, Holy Cross. She was proud to be a homemaker for her family. She was the cub scout leader for Angelo, her oldest child, and a school bus driver for 34 years for Southfield schools. She adored being a boy mom often took them to sporting events and fishing, and even bought George his first gun.
Irene was a vivacious, hilarious, and generous woman. Her family loved her dearly. She would do things her own way and wouldn't listen to anyone. Her entire life she was selfless and took complete care of her husband and in-laws despite the immense difficulties, until their final days. She was also a great cook, especially when it came to Greek food. To everyone, she was the strongest person they knew.
Irene enjoyed going on cruises with her husband and friends, going to the casino, playing poker, fishing, shopping, and knitting. She especially loved dropping by her boys' houses and going out for ice cream. It was not unusual for her family to see a white Buick playing old Greek cassettes pulling up their driveways, occasionally going over grass and hitting rocks.
Her greatest joy in life was her six grandchildren. She loved talking with Michael and Aris, getting her nails done with Rena, going to the casino with Nico, cooking and knitting with Sophia, and going out to eat with Demetri. Her grandchildren vividly remember leaving her house with their arms full of food, jewelry, clothes, and random knick-knacks she would pick up.
The many years between her birth and her passing were rich and rewarding and celebrated with close friends and family. Irene loved and was loved by many. Irene M. Zervos left an enduring mark on so many lives. Hers was a life well-lived.
Irene lived a long and exceptional life and, after devoting a lifetime of love to her family and friends, completed her life's journey on January 6, 2023. Irene, the perfect Greek wife, was the loving spouse of 64 years to her beloved Michael Zervos. She was also the devoted and loving mother of three boys- Angelo (Mary), Stephen, and George (Lisa). Irene was the cherished and proud grandmother of Michael, Argyrios, Ereni, Nicholas, Demetrios, and Sophia. She was also the dear sister of the late Michael (Karen), the late Constantinos (the late Anastasia), the late Nicholas (the late Myra), the late Fotini (Joseph), the late George (the late Betty), John (Caroline), and Vasilios (Betsey). Finally, Irene is also the beloved daughter of the late Stamatis and the late Maria.
Visitation for Irene will be held Wednesday, January 11th, from 2:00 p.m. to 8:00 p.m. with a Trisagion Service at 7:00 p.m. at McCabe Funeral Home, 31950 W. 12 Mile Rd., Farmington Hills. She will lie in state on Thursday, January 12th, at 10:30 a.m. until the time of her Funeral Service at 11:00 a.m. at Holy Cross Greek Orthodox Church, 25225 Middlebelt Rd., Farmington Hills.
In lieu of flowers, donations are appreciated to Holy Cross Greek Orthodox Church Mortgage Elimination Campaign.