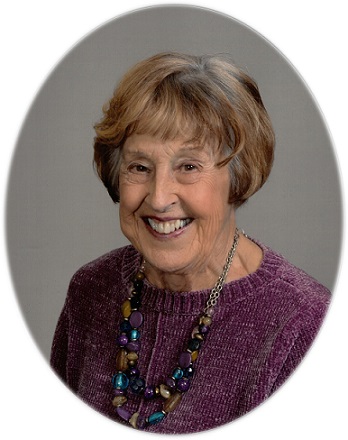 Patricia M. Paullin
February 13, 1933 - January 12, 2023
Patricia Mae (Williams) Paullin, age 89, of Novi, Michigan, died on January 12th, 2023. Patricia was born on February 13th, 1933 to Doris (Denton) and Llewellyn Williams in Flint, Michigan.
Patricia graduated from Central Michigan University in 1956 where she met the love of her life, RT Paullin. On August 25, 1956 in Flint, Patricia married RT Paullin who preceded her in death on October 13, 2012. Soon after their marriage, Patricia and RT made their home in Mt. Pleasant and Patricia taught high school for a short time before giving birth to their first child with three more soon to follow. In 1968, Patricia and RT established the Paullin Funeral Home in Mancelona and later opened the Paullin Funeral Home in East Jordan where together they served the Mancelona and the East Jordan communities. Patricia became a licensed insurance agent in 1968 and sold casualty and automobile insurance before selling her agency. Upon retiring in 1995, Patricia and RT moved to Houghton Lake, Michigan. In 2015, Patricia moved to Novi and became a resident of the Fox Run Community.
Patricia was a member of the Houghton Lake United Methodist Church and an active participant of the Orchard United Methodist Church in Farmington Hills. While at Fox Run, Patricia was involved in the Resident Life Committee, the Diversity, Equity, and Inclusion Community, and Social Responsibility and Curtain Call. Patricia enjoyed University of Michigan sports, her flowers, travel, birds, meeting new people and spending time with her friends. In 2013, Patricia attended the Michigan Women's Football Academy which was a highlight of her life.
But by far the love of Patricia's life was her family. She is survived by four children, Cathryn (Don) Drury of Grand Rapids, Linda Paullin-Hebden (Tom Hebden) of Farmington Hills, Cindy (Scott) Fountain of Boylston, MA, and RT Paullin III (Shari Kennett) of Ann Arbor. She is also survived by six grandchildren, Matthew Drury, Taylor (Teri) Drury, Brad (Stefanie) Hebden, Travis Hebden and his fiancé, Colleen Joseph, Emily and Elizabeth Fountain and two great grandchildren, Ray and Miles Drury. Patricia was preceded in death by her husband, her parents and her siblings, Vivian O'Brien, Kenneth Williams and Dorothy Pendell.
Funeral Services will be held at 11 a.m. on Friday, January 20th, at Orchard United Methodist Church, 30450 Farmington Road, Farmington Hills, with visitation beginning at 10:00 a.m. until the time of service. A luncheon will be held at the church following the services. Burial will be at the Riverside Cemetery in Mt. Pleasant.
Memorial contributions may be directed to Orchard United Methodist Church at www.orchardumc.org/giving. Arrangements were handled by McCabe Funeral Home.