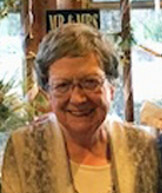 Margaret 'Peggy' Charest
May 4, 1933 - February 20, 2023
Peggy Charest (nee Kelly) passed away on February 20, 2023, after a brief illness surrounded by her family. She was 89 years old.
Peggy is preceded in death by her husband of 42 years, Paul J. Charest (1996) and her siblings, Genevieve (Chet) Tomaszewski, Paul (Carrie) Kelly, Dorothy (Tom) Mohan and Mary (Jim) Smith.
She is survived by her two children, Patti (Dan) Bolda and Larry Charest along with her two beloved grandchildren, Erik Bolda and Julie (Ken) Christy; brothers-in-law, Roger (Alice) Charest and Norm (Judy) Charest and sister-in-law, Therese Isaacson.
Peggy enjoyed a long and happy life and loved nothing more than enjoying a glass of wine with family and friends.
Mrs. Charest's family will receive friends on Thursday, February 23rd, from 2:00 p.m. - 8:00 p.m. at McCabe Funeral Home, 31950 W. 12 Mile Rd., Farmington Hills. Her Funeral Service will be held Friday, February 24th, at 11:00 a.m. also at McCabe Funeral Home. Mrs. Charest will be reunited with her beloved Paul at All Saints Cemetery, Waterford.
In lieu of flowers, Memorial Contributions may be made to the American Heart Association and Hospice of Michigan in Mrs. Charest's name.