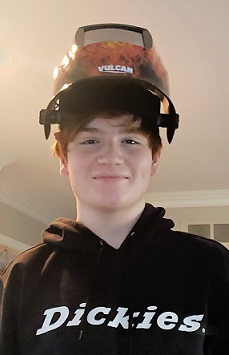 Brennan Jameson Hulett
March 16, 2004 - February 24, 2023
Brennan Jameson Hulett, age 18 of Farmington Hills, passed away suddenly on February 24, 2023. He was born on March 16, 2004 to James and Beth Hulett.
Raised in Farmington Hills, Brennan was a graduate of North Farmington High School and enrolled in the welding program at Schoolcraft College. He was a constant learner, immersing himself in self-study, research, and the artistic applications of topics in which he was interested.
Growing up, Brennan stayed active, playing little league baseball and being involved with the jetski racing community. In his high school years, he continued with varsity lacrosse and football. Brennan enjoyed skateboarding, online gaming with friends, and creating virtual experiences. Brennan's artistic approach crossed into several mediums, including welding metal sculptures, graphic design, and his most notable passion for street art.
His intuition rarely failed him as he was sensitive to his surroundings and the people in them. His genuine and empathetic nature enhanced his depth and understanding. Although he had a reserved disposition, his humorous and lighthearted spirit emerged when spending time with his closest family and friends. He loved animals and will be missed by his cats Morris and Alex, and his dog Luna.
Brennan was the cherished son of James and Beth Hulett. Loving brother of Hannah. Beloved grandson of Bert and Karen Green. Dear nephew of Amy (Ray Proulx) Green, Lisa Green, Dr. Nancy (Don) Frank, Dr. Becky (Bob) Bowling and Mary (Bill) Hallmark. Cousin to Grace, Erin, Carter, and Murphy Dirig, and Michelle (Steven) Frank-Zhang. Brennan was predeceased by his grandparents Ralph and Mary Delilah 'Del' Hulett.
Visitation for Brennan will be held on Friday, March 3rd, from 2:00 p.m. until 8:00 p.m. with a 6:00 p.m. Funeral Service at McCabe Funeral Home, 31950 W. 12 Mile Rd., Farmington Hills. Details for his Bay City burial are to come.
Memorial donations in Brennan's name can be made to the Humboldt Forest or the Epilepsy Foundation of Michigan.