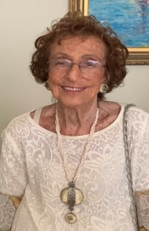 Roselyn "Rho" Blanchard
December 15, 1929 - March 2, 2023
Roselyn C. Blanchard, affectionately known as Rho. What comes to mind immediately: butterflies, her contagious laughter, the love of mismatched socks and the color red, especially when driving around in her Red Corvette.
It is with the greatest of sadness that we announce Rho's passing from this life into the Kingdom of the Lord. The angels gently guided her to heaven on the evening of Thursday, March 2nd, after a long, well-fought battle with dementia. Rho was born in Detroit on December 15, 1929, to John and Millie Piersante. The youngest daughter of seven children, she attended Catholic school and soon after graduation she met the love of her life, Gene. They were married September 9th, 1950, 73 blessed years. They had three daughters, Carmen, Marguerite and Nancy. The family spent summers sailing and cruising on their boat RHOGEE. There were also many trips abroad.
As known by all who were acquainted with her, Rho loved to entertain and was a fabulous cook. She was happiest while planning and executing well put together dinner parties and events. Rho was extremely active in both the Detroit Symphony and Detroit Opera scenes. She loved Jazzercise, singing along to the classics, Sudoku, and sharing her big love with her grandson and four granddaughters. Rho also carried on with her daughter Carmen's love of hand-painting greeting cards adorned with watercolor flowers. She will be remembered forever for her warm hugs. She taught us our greatest family values outside of the home and inside her kitchen. She kept her Italian heritage alive within all of us.
Rho lost her oldest daughter Carmen to the ravages of cancer in 1993 and spent the balance of her life advocating for cancer research through the Carmen Blanchard Memorial Fund at the University of Nebraska Medical School. Rho is survived by her loving husband, Gene and her daughters and their husbands, Mag and Bill and Nancy and Peter and her 4 grandchildren and 4 great-grandchildren. Additionally, her younger brother Ronnie Piersante and his wife Irene.
Grandma, we will hold you close to our hearts and love you now and forever.
A Memorial Gathering for Rho will be held on March 18th, from 10:30 a.m. until the time of her Memorial Mass at 11:00 a.m. at Prince of Peace Catholic Church, 4300 Walnut Lake Rd., West Bloomfield Township, MI. She will be laid to rest in Pine Lake Cemetery, West Bloomfield.
In lieu of flowers, a memorial contribution may be made to the University of Nebraska: Carmen Blanchard Cancer Fund # 01066480, P. O Box 82555, Lincoln, NE 68501-2555.