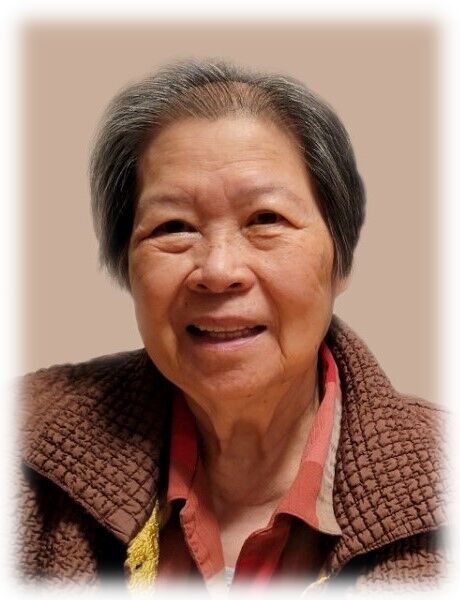 Paz Lumbo Torres
May 1, 1940 - August 14, 2023
Paz Lumbo Torres was born in the coastal town of Currimao, Ilocos Norte in the Philippines, to Candido and Inocencia Lumbo. She had 2 brothers, Manning and Regulo. Her family settled in the town of Batac, the birthplace of former President Ferdinand Marcos. Her father opened Lumbo Bakery in the storefront below their home in Batac Crossing. With the Torres family living across the street, she became fast friends with Leonel as children since he was one of the grandkids that would come from Manila to visit. As a child, she woke at the crack of dawn to help in the bakery. She learned how to make various Filipino baked goods such as Ensaimada, Mamon, and Bibinka. Lumbo Bakery also sold general goods, envelopes that she made with paper and homemade paste, ribbons and other odds and ends. After her work at the bakery was done, she went to Batac Central elementary school where she would meet her life long friends. There, she participated in singing and performing Filipino folk dances during town festivals. She didn't always have a pencil and paper at school, so she would do her homework on a banana leaf that she would scratch with a sharp stick. Paz went on to Batac Rural High School, an agricultural school where farming was a part of the curriculum. She excelled in math, but also planted rice in the paddies and developed a green thumb. She was a beautiful operatic soprano and won the province wide competition while in the school's glee club. She was industrious as a teenager and turned a corner of the Lumbo Bakery into a boutique where she sold handmade bows that she made and kept her inventory stocked with all the latest fads.
During her college years at University of the East in Manila, Paz's cousin would bring her to the PX at the US Military base in Subic Bay to buy American goods. She brought those items back to Batac to sell, which were popular and sold quickly, showing her business knack for turning a profit. It so happened that Leonel was studying medicine at the University of the East as well. His family had the reputation for being quite wild. Despite warnings from her family, Paz allowed Leonel to court her and had their first date on September 29, 1959. She was 19 and he was 18 when he stole a kiss from her while sitting on a bench. Paz graduated with a Bachelors of Business Administration degree in 1960 and went on to pass the rigorous CPA exam in 1965. Of the 4,637 candidates that took the exam, Paz was one of the 1,459 that passed.
Paz and Leonel secretly wed on January 27, 1967 in front of a judge in a civil service. They each went back to their respective homes after the ceremony since she didn't want her parents to find out. The pair eventually married at the Immaculate Conception Parish Church in Batac on September 6, 1968 at the request of Paz's friend so their marriage would be recognized by the Catholic church. The only people in attendance were their two witnesses. There was no honeymoon or wedding reception since they lacked the funds and were saving to go to America.
Leonel was recruited by Toledo Hospital in Ohio during the physician shortage in the 1960's. They arrived in the United States with $200, two suitcases and a chance to live the American dream. Paz also worked at Toledo Hospital in the accounting department until she became pregnant with their first child, who was born at Toledo Hospital. They relocated to Detroit where Leonel pursued his residency in anesthesiology at Henry Ford Hospital. Blessed with two more children, their family was complete. Paz and Leonel laid down roots in Farmington Hills, MI in 1974. They grew a network of friends that became their chosen family in America. She was a talented cook and her homemade dishes were enjoyed by friends and family at countless birthday parties, holidays and informal gatherings. Paz was an avid gardener, played the piano, and sang in a Filipino choir. She volunteered with Leonel at medical missions to the Philippines. Paz also loved to travel. The girl that used to scratch out her homework on a banana leaf became worldly and, in her lifetime, visited every corner of the globe.
Paz and Leonel built two family homes in the Philippines; one in Batac, the other in Manila. The Lumbo Bakery was transformed into a new modern home with living space for the family upstairs and storefronts on the first floor so her family in the Philippines could generate income. Paz and Leonel retired at Sun City Anthem in Henderson, Nevada. They enjoyed their golden years in Las Vegas and hosted countless visitors.
In 2017, Paz and Leonel's children surprised them with a 50th wedding anniversary party. Since they never had a wedding reception in the Philippines, their wedding/vow renewal was complete with a wedding party (their 6 grandkids), Paz's bouquet, and a renewal of vows surrounded by many friends and family as witnesses. They had their first dance, cut their wedding cake, and partied the day away with plenty of food, drinks and music. Once Leonel became ill, they relocated to Northville, MI to live with their eldest daughter, Haidee, where Paz remained after Leonel passed away. Paz struggled with Parkinson's for 4 years and eventually succumbed to the disease. She died peacefully at home, surrounded by family on August 14, 2023, at the age of 83. She and Leonel left a legacy of generosity and support. She was preceded in death by her beloved husband Leonel, parents, Candido and Inocencia Lumbo, brothers Manning (Fely) and Regulo (Lydia), grandson Austen Torres and granddaughter Jordyn Torres. She is survived by her children Haidee (Tyler) Heaven, Liane (Stanley) Szczotka, Jayson (Roberta) Torres, grandchildren Sophie Szczotka, John Szczotka, Cameron Heaven, Lauren Heaven, Ryan Heaven, Samantha Torres and many nieces and nephews.
Visitation for Mrs. Torres will be held Monday, August 21st, from 4:00 p.m. to 8:00 p.m. with a Scripture Service at 7:00 p.m. at McCabe Funeral Home, 31950 W. 12 Mile Rd., Farmington Hills. She will lie in state Tuesday, August 22nd, at 10:00 a.m. until the time of her Funeral Mass at 11:00 a.m., at St. Fabian Catholic Church, 32200 W. 12 Mile Rd., Farmington Hills. Luncheon will be served at St. Fabian immediately after mass. Paz will be laid to rest in Glen Eden Memorial Park, Livonia at a later date.
Donations in memory of Paz Torres may be made to The Michael J. Fox Foundation at www.teamfoxinthed.com