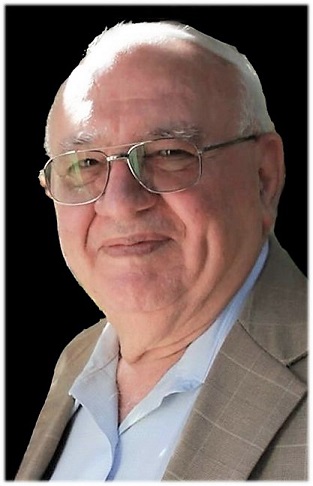 Zuhair Antone
July 16, 1936 - August 16, 2023
In Loving Memory of Zuhair Elias Antone
With a profound blend of sorrow and gratitude, we remember and honor the life of Zuhair Elias Antone. Born on July 16, 1936, in Baghdad, Iraq. Zuhair's journey through life touched hearts with resilience, love, and a steadfast commitment to his Christian faith. At the age of 87, he passed away peacefully and comfortably at Ascension Providence Hospital in Novi, Michigan on Wednesday, August 16, 2023, after bravely enduring a significant stroke two weeks prior.
Zuhair's unwavering devotion to his Christian faith was a cornerstone of his character. His life was an embodiment of Christian values - compassion, kindness, and a deep love for his fellow human beings. He carried this faith with him from his roots in Baghdad to his new home in the United States in 1960, where he built a life that would touch countless lives.
As the last surviving child of his parents, Elias and Hanniya Antone, Zuhair embraced his role within his family with grace and strength alongside his siblings Miriam (Hermez Atchu), Yousif (Nazhat), Alice (Shakir), Najiba, Peter (Najiba), Noori (Claire) and Adil (Ann). On September 4, 1966, he married the love of his life, Rosemary, beginning a partnership that would enrich their lives and the lives of those around them. Together, they raised four sons: Rick (deceased), Tony (Nermien), Jeff (Nikki), and Steve (Rachel), and shared the joy of eight cherished grandchildren: Joey, Grace, Luke, Jordan, Danny, Charlie, Hope, and Will.
Zuhair's journey from Baghdad to the United States in 1960 marked the beginning of a story that would touch countless lives. He embarked on a path of education and hard work, transitioning from studying Tool and Die design to pursuing his passion in the grocery business. In 1961, he purchased his first grocery store, Food Lanes, a step that set him on a course of entrepreneurship and community engagement. Over the years, he made his mark as the owner of several stores, including Spartan Market and later Giant Foods, where he worked alongside two of his brothers and left an indelible impact until his retirement in 1995.
To his customers and employees, he was affectionately known as "Larry." He was more than just a businessman; he was a pillar of the community. Zuhair's generosity knew no bounds, as he extended a helping hand to those in need and advocated passionately for education. His belief in the power of learning led him to encourage countless young people to strive for excellence and continue their studies.
Following the loss of his beloved wife, Rosemary, Zuhair carried his legacy forward to Fox Run Senior Living Community in Novi, MI. There, he became known as "Zu," the embodiment of warmth, laughter, and compassion. He embraced his role as the "mayor" of Fox Run, forging connections with residents and staff alike. His genuine interest in others, coupled with his trademark quick laugh and willingness to lend a helping hand, left an indelible mark on all who crossed his path.
As we reflect on Zuhair's life, we recognize the grand legacy he leaves behind, and the profound void created by the absence of his larger-than-life presence. He will be remembered as a devoted husband, loving father, doting grandfather, community advocate, and friend to all. The impact of his generosity, his genuine care for others, his steadfast faith, and his infectious spirit will continue to inspire and guide us for generations to come.
Zuhair will lie in state at McCabe Funeral Home (31950 W. 12 Mile Rd., Farmington Hills, MI 48334) on Sunday, August 20, 2023 from 3-8 pm. A funeral service to honor Zuhair's life will be held on Monday, August 21, 2023 at Berean Baptist Church (38303 8 Mile Rd., LIvonia, MI 48152) at 9:30 am, with a luncheon to follow at Regency Manor and Banquet Center (25228 W. 12 Mile Rd, Southfield MI 48304). In lieu of flowers, the family kindly requests that donations be made to the Fox Run Scholarship Fund in Zuhair's memory.
As we bid farewell to Zuhair Elias Antone, may his spirit rest in eternal peace, and may the memories of his love, kindness, laughter, and unwavering faith continue to shine brightly in our hearts.