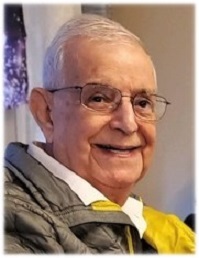 John Gilbert Bruno
November 25, 1931 - August 18, 2023
John Gilbert Bruno, age 91 of Canton, passed away August 18, 2023. He was born November 25, 1931 in Pelotas, Rio Grande do Sul, Brazil to Luiz Antonio and Geny Gil Bruno.
John "G'bee" Bruno was a graduate of Escola Técnica Federal de Pelotas and Fundação Getúlio Vargas. He dedicated more than 30 years of his career to Ford Motor Company, where he led the Purchasing Senior Leadership Team for passenger car purchasing and later for truck. At AutoLatina, he again led the Purchasing Senior Leadership Team. John had a remarkable career in the Auto Industry, being recognized as one of the most influential people in the Brazilian Automotive Industry in the 1980's.
On October 10, 1958, John married Jacy Rodrigues. They moved to São Paulo, Brazil, the following year. He was a brilliant man, an engineer who spoke three languages. He was also blessed with the opportunity to travel around the world multiple times and called both Brazil and the United States his home. He was a dedicated husband, father and grandfather. He was proud that the family shared his passion for the Automotive Industry. He served the Brazilian Army with Honors.
John was the beloved husband of Jacy for 64 years. Loving father of Deborah (Jorge) Friederich, Ricardo (Adriana) Bruno, Ethel Bruno, Rachel (Brian Deutschel) Fortenberry-Deutschel, Elizabeth B. (Robert) Hemrick, Esther B. (Scott) Anderson. Proud grandfather of Rebecca Friederich, Ariel Bruno, Sarah Bruno, Sophie Bruno, Kimberly Fortenberry (Alec Schrok), John Fortenberry (Soojin Song), Joshua Hemrick, Bella Anderson, and Sophia Anderson.
Visitation for Mr. Bruno will be held on Monday, August 21st, from 9:30 a.m., until the time of his funeral service at 12:00 p.m., at McCabe Funeral Home, 851 N. Canton Center Rd., Canton. Following the service, he will be laid to rest in Knollwood Memorial Park, Canton.