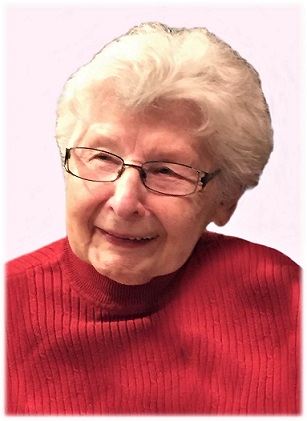 Barbara Matusz
May 5, 1925 - September 9, 2023
Barbara Matusz, age 98 of West Bloomfield, passed away peacefully after her long journey ended on September 9, 2023.
Barbara Mae Matusz was born in Detroit, Michigan to Leona and John Ochenski. She was closer with her younger brother, Clarence (Jackie), who died at the age of 45. Her sister Madeline, whom she never knew nor forgot, passed away from pneumonia at the tender age of 6 months. Barbara's Polish roots were in rural Alpena, Michigan, where her mother was the eldest of twelve children.
Raised in Detroit, Barb graduated from Pershing High School in 1943 and married her high school sweetheart, Arnold J. Matusz, on January 19, 1946. Arnold, a Veteran of the U.S. Air Force, served as a flight engineer during WWII and was a mechanical engineer who designed automotive paint systems for R. C. Mahon. He also worked as Vice President of Engineering at Alpha-Debon (later purchased by FlaktGroup). Arnold retired as Vice-President of Engineering for Flack Inc. Barbara worked as a personal secretary for Chrysler during the infamous Manhattan Project. She later worked for the Michigan Unemployment Insurance Agency in Downtown Detroit and eventually retired from Sears, after the children were grown.
Together, Barbara and Arnold raised five children in East Detroit (Eastpointe), Michigan: Nancy Karas (Steve); Arnie Matusz (Darlene); David Matusz (Kim); Bobbie Mallory (Greg); and the late Jim Matusz. After Arnie senior's death in 1990, Barb enjoyed traveling extensively with friends and doting on her twelve grandchildren: Sara Roberts (Chris); Tim Matusz (Joy); Daniel Karas; Lauren Karas (Cory Eisenhard); Matthew Matusz (Corey Mitleider); Brett Matusz; Eric and Ryan Mallory; Payton Mallory Garris (Tyler); Jessica McCloskey (Matt); and Audrey and A. J. Matusz. Living to be 98, she was also blessed with four amazing great-grandchildren, whom she treasured more than life: Jacob Roberts, Morgan and Jamie McCloskey and little Madeline Matusz.
During her long life, some of Barbara's favorite pastimes were Friday night ball-room dancing, golfing, bowling, sewing, Polish sausage making, doing puzzles of all kinds, and of course, playing board games and cards (Pinochle being her card game of choice).
At the age of 97, Barbara was diagnosed with inflammatory breast cancer. Declining treatment she faced this new adversity as she always had throughout her life, with grace and strength, sprinkled with an enduring sense of humor her family so admired. The family is forever grateful to all her loyal caregivers, especially Brett Matusz, whose compassionate services throughout the last 4 years of her life allowed her to transition peacefully at home. Also, of very special note, her private aid Lunye Donaldson; Harmony Care's Hospice team, in particular her nurses Solana, Traci, Danielle and Kaylee; her aid, Tiffany: and her social worker, Elizabeth.
We are all saddened at losing Barbara, but realize how incredibly blessed we've been to have felt her unwavering love and support for 98 beautiful years.
Visitation for Mrs. Matusz will be held on Wednesday, September 13th, from 2:00 p.m. until 8:00 p.m. with a 7:00 p.m. Rosary Service at McCabe Funeral Home, 31950 W. 12 Mile Rd., Farmington Hills. She will lie in state on Thursday, September 14th, at 9:30 a.m., until the time of her Funeral Mass at 10:00 a.m., at Prince of Peace Catholic Church, 4300 Walnut Lake Rd., West Bloomfield. She will be laid to rest in Holy Sepulchre Cemetery, Southfield.
Memorial donations in Mrs. Matusz's name are appreciated to St. Jude Children's Research Hospital.