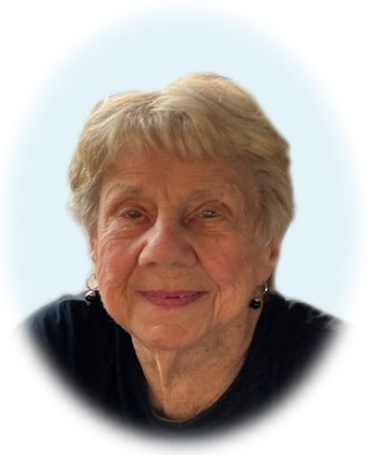 June Louise Lymperis
July 17, 1928 - September 10, 2023
June Louise Lymperis, age 95 of Farmington Hills, passed away September 10, 2023. She was born July 17, 1928 in Detroit, Michigan to Oscar and Helen Wetterborg. June was the beloved wife of the late Robert (Bob) Lymperis for 70 years, and loving mother of Sue (John Gialanella) Smith, William and George (Margaret) Lymperis. Cherished grandmother of Shannon (Matthew) Mayer, Blair, Christopher (Luana) Smith, Kristina, Nicholas and Casey. Great-grandmother of Nolan, Charlie, Elaine, Louis and Mia. Dear half-sister of Violet and Mary and aunt to Patty Mock Wilson.
June was a long-standing member of the First Presbyterian Church of Farmington and held many roles, such as, choir member and deacon. She was a faithful employee at Henry Ford West Bloomfield Hospital for 35 years until her retirement at the age of 86. June lived in her family home until last year when she downsized to an apartment at Waltonwood Twelve Oaks where she fostered many new friendships.
June, known to her family as Yia Yia, was fun loving and embraced life to its fullest. She loved to travel and attended many cultural community events including live theater, the Detroit Symphony Orchestra and the Michigan Jazz Festival. June had a fine-tuned ear for music and could promptly name the title of any big band song. She was also a firm believer in the importance of remaining physically, mentally, and socially active. "Remember PMS" was a common piece of advice. She regularly participated in exercise classes, was an avid reader, enjoyed the daily New York Times, watched the Create Channel, and frequented George's restaurant with the Wednesday lunch crew. Soon after marrying Bob, June immersed herself in learning to cook Greek dishes such as spanakopita, pastitsio, and Uncle George's turkey dressing. Most importantly, she was a devoted wife and loving mother who dedicated her life to her family, friends, neighbors and coworkers. She will be deeply missed by all who knew and loved her.
Memorial visitation for June will be held Friday, September 22nd, from 10:00 a.m. until the time of her Memorial Service at 11:00 a.m. at First Presbyterian Church of Farmington, 26165 Farmington Rd., Farmington Hills. She will be reunited with her husband and laid to rest in North Farmington Cemetery, Farmington Hills.
A video tribute to June may be viewed at Tribute to June Lymperis.
Memorial donations in June's name may be directed to the Farmington Community Library, 32737 W. 12 Mile Rd. Farmington Hills, MI 48334 or to the Michigan Jazz Festival, c/o Schoolcraft College, 18600 Haggerty Rd., Livonia, MI 48152.