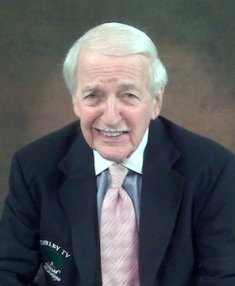 Philip Nye
March 1, 1927 - March 20, 2014
Nye, Philip, age 87 passed away peacefully on March 20, 2014. Born in Newark, Ohio on March 1, 1927, he was a proud graduate of the Ohio State University where he studied theater and journalism. He had a long and distinguished career in radio and television. Mr. Nye worked actively as a broadcast journalist until the age of 86.
The highlights of his career include News Director of legendary radio station WKNR Keener 13 during it's 1960's heyday; investigative reporter and anchor for KTLA-TV in Los Angeles; and News Director for WXYZ-TV where he built one of the best news teams in the country. He went on to head news departments at WABC in New York and KGO in San Francisco. In the 1980's, he became Vice President of ABC News, managing their owned and operated television station news division. He later became an active partner in Burnham Broadcasting, managing television stations in Green Bay, WI, Bakersfield, CA and New Orleans, LA.
He continued working well beyond retirement. At Shelby TV, he wrote and broadcast a weekly news program for more than ten years. But most important to him was mentoring many up and coming young journalists.
He was an avid reader and loved old movies, enjoyed cooking, playing golf and watching his beloved OSU Buckeyes play football.
He is survived by his daughters Jo-Allison (Jeffry) Floyd, Kimberly McMahon, Tracey Millard and Cindy (Mark) Malin; eleven grandchildren Megan, Matthew, Tyler, Ryan, Colin, Christopher, Scott, Kelsey, Meredith, Allie and McKenna. And one great grandchild, Jayden. He was predeceased by his wife Joanne Phillips and daughter Pamela (Michael) McGillivary.
Visitation will take place at McCabe Funeral Home, 31950 West Twelve Mile, Farmington Hills, on Monday March 24 from 11:00 am - 1:00 pm. Funeral Service at 1:00 pm. Memorial contributions may be made to the Special Olympics in his name.