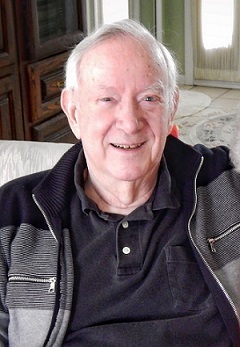 Allen L. Harper
October 31, 1937 - May 7, 2019
Mr. Allen L. Harper passed away Tuesday, May 7, 2019 at Angela Hospice, Livonia. He was born October 31, 1937 in Detroit, Michigan, a son of Walter Shelby and Theresa Mary (nee Sosnowski) Harper. On June 27, 1969, he was married to Mildred "Millie" Louise Thumm in Detroit, Michigan. In 1990, they made moved from Detroit to Canton.
Mr. Harper proudly served in the United States Army Reserves from 1961-1967. He was involved for many years with the Catholic Big Brothers, mentoring several young men over his years with the organization. He was a CPA with Allen Harper CPA. Following the sale of his business, he then went to work for L.P.L. Financial. Mr. Harper retired as a financial advisor at the age of 80. He had a love for country music, especially Johnny Cash. Mr. Harper enjoyed gambling, playing guitar, watching old Westerns, and loved his cars. He will be missed dearly.
Mr. Harper is survived by his loving wife of nearly 50 years, Mildred. Dear brother of Karen Sirko. Brother-in-law of Helen Harper, Doris (Don) Durham, and Elmo (Barbara) Thumm. He is also survived by numerous nieces and nephews as well as many special friends. He was preceded in death by his parents and brother Gerald Harper.
Visitation will be held on Friday, May 10, 2019 from 2:00 P.M. - 8:00 P.M. at the McCabe Funeral Home, 851 N. Canton Center Rd., Canton, MI. The family will receive friends on Saturday, May 11, 2019 from 10:00 A.M. until the time of the funeral service at 11:00 A.M. at the funeral home. In lieu of flowers, memorial contributions in Mr. Harper's name may be made to Big Brothers Big Sisters of Metropolitan Detroit, 7700 2nd Ave., 602 Detroit, Michigan 48202, or to Ascension Providence Hospital, Novi/Volunteer Services.