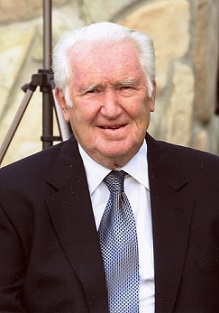 Charles C. McGee
July 6, 1922 - February 28, 2020
Charles Carlisle "Mickey" McGee passed away February 28, 2020 at the age of 97.
Mickey was the beloved husband of the late Eleanor J.; dearest stepdad of Lawrence A. (Marianne) Kaczor and Victoria J. (Dennis) Barill; cherished grandfather of Andrew (Lauren) Scally, Nicholas Kaczor and Anne (Chris) Obudzinski; loving great grandfather of Aaron and Morgan Scally and Maria, Rosa, and Christopher Obudzinski. Charles was preceded in death by his parents, Charles C. and Eva Byron McGee; brother, Harold B. McGee and his wife Marjorie; sister, Rosemary and her husband Robert Shuss; and nephew Donald McGee. He is survived by many loving nieces and nephews in Pennsylvania, Florida, Arizona, Ohio, and Michigan.
Born in McGee's Mills, Pennsylvania, Charles (called 'Carl') was raised on the family farm. He became valedictorian of his senior class and graduated from Penn State University with a degree in civil engineering. He briefly worked for Lockheed Aircraft in California before being inducted into the United States Army. His tour of duty in WWII was in Europe with the 103rd Infantry-Div Artillery HHQB. He then returned home to find local opportunities in construction.
Charles eventually moved to Michigan and worked for the Holloway Companies for over 35 years, rising to upper positions. He then spent over 25 years with the Thompson McCully/McCoig companies as a consulting engineer.
Mickey enjoyed hunting with family, friends and business associates; never missing a chance to go back home to spot deer and 'count turkeys' with his brother, Barney. His many hunts included Colorado, Wyoming, Montana, and Quebec. Other favorite activities included fishing with his grandkids, bowling on various local leagues with his wife, Eleanor, and together they enjoyed trips to Australia, Alaska, and many to Las Vegas.
A celebration of Mickey's life will be held at a later date when all are able to gather and share memories. Memorial Donations to the American Cancer Society, American Heart Association, and the Alzheimer's Association are appreciated in his name.