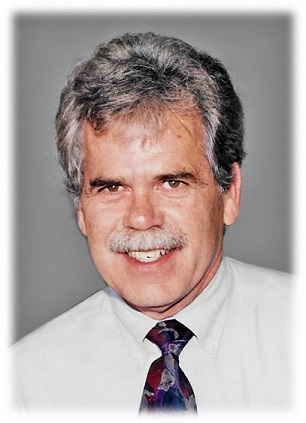 John Thomas Kern
February 22, 1944 - August 22, 2020


John Thomas Kern was born February 22, 1944, in Chicago, Illinois, to Wilbur and Mary (Mangan) Kern. He was the second of four children and grew up in Dolton, Illinois, where he spent many days playing tag and hide-and-go-seek or riding bikes with the neighborhood kids. He was a good-natured and responsible son, referred to by his siblings as the "golden child." As a young boy John, together with his brother Bob, held a job selling newspapers outside of Queen of the Apostles Church in Riverdale, IL, and maintained a paper route. While John was an excellent student at Queen of the Apostles K-8 School and Mendel Catholic High School (Chicago, IL), he spent much time playing the accordion, organ, and later the piano in his band 'The Fabulous Capris', which featured Peter Cetera of Karate Kid theme song fame as lead singer. The Capris played high school dances, as well the graduation & wedding circuit, and performed about once a week at the popular Poppel's Under 21 Tropicana Club (Riverdale, IL) during the 1950s-1960s. John once had aspirations of becoming a professional pianist but eventually shifted his focus to business, graduating from Loyola University of Chicago in 1976 with a degree in economics. He began his career at Ford Motor Company in June of 1966 as an entry level laborer at the Chicago assembly plant, where his father was employed as foreman of the paint department.
John married his beloved wife Kathleen Fahey in 1968 at the age of 23. John and Kate worked full-time day jobs to finance their college (night) studies at Loyola Chicago (Water Tower), demonstrating extraordinary drive and work ethic. Upon graduation from Loyola in 1976, John began to work his way up the ranks in Ford Motor Company. He enjoyed young married life in the south suburbs of Chicago in close proximity to parents, siblings, cousins, nieces, and nephews for ten years, and Kate has fond memories of them also enjoying many times with friends, attending lots of concerts like the Rolling Stones, Elton John, etc., together during this period. John and Kate started their tradition of frequent ski trips to Colorado with friends which became a treasured memory for them both. Then in 1977 John and Kate relocated to Metro Detroit for John to follow a professional advancement opportunity at Ford. They built their dream home in Farmington Hills, MI, where they lived together for 43 years. Here, their three children, Sarah, Megan, and John Michael, experienced a blissful childhood filled with many wonderful memories of play and activities/traditions with neighbors and friends, hanging out at Woodbrooke Swim and Tennis Club, Girl/Boy Scouts, birthday parties, sports events, and vacations "up north." On weekends, John would cook big breakfasts, do the laundry, fix things around the house, and take the kids to their sports practices or games. His kids remember him being a vocal spectator at their soccer, baseball, and basketball games, and he was known to occasionally resort to bribery (Red Lobster dinner) to encourage point scoring for the good of the team. John took pride in being a timer at Woodbrooke swim meets and a member of the board of directors for the club because this gave him an opportunity to connect with the other parents and kids as well as use his excellent organizational and leadership skills. John was a "people person," and was warm and friendly with everyone he met. He loved talking with other people and enjoyed telling jokes or saying things to make people laugh. Shortly after his retirement from Ford, John moved in with his daughter, Sarah, and her growing family to assume the role of caregiver to their infant son Jackson for 9 months. He quickly assimilated into many social circles in this temporary home of Birmingham, AL, developing lasting friendships with O'Henry's patrons and several of the neighborhood stay-at-home moms, and he started the memorable tradition of Friday evening front porch happy hours with the neighbors. His grandson, Jackson, when asked what he'll remember most about Grandpa, said "that he was really funny. And he liked salmon and ice cream. Plus, he took me to O'Henry's coffee shop and the toy store every day when I was little."
John was a captivating storyteller. He liked to regale his grandsons with "little Johnnie" stories, where little Johnnie got into mischief, like peeking in the window of the Witch's house, shooting his brother in the butt with a bee-bee gun, or borrowing Uncle Monty's car to practice underage driving. His family remember well his stories about eating blowfish in Japan, a disastrous haircut, the story behind his aversion to Spanish rice, his introduction to Argentine tango, and Kate's honeymoon food poisoning incident. In his 42-year- long career as a manager and Quality Control engineer at Ford Motor Company, John became a masterful public speaker. He used this talent very effectively at work and in his personal life. He frequently traveled nationally and internationally (Japan, Mexico, Germany, and Argentina) to interface with professional colleagues as an assembly plant auditor. He cherished his role as a mentor to junior coworkers and was passionate about teaching them to communicate well; he was affectionately called "Father Quality" by his work colleagues. In his fifteen-year-long battle with lung cancer, John inspired many fellow cancer patients with his optimism, humor, and motivational speeches. He became very close with the members of his Karmanos Men's Cancer Group and served as a role model and support person for many of these friends during their battles against cancer, most of whom lost the fight long before he did.
John had keen interest in how things worked and a knack for fixing things; a characteristic that his daughter Megan shares. Never did a car, device, or machine go unfixed once broken in John and Kate's or any of John's children's homes if he could help it. Although maintaining an active aol.com email account into 2020 is generally a sign of being technologically challenged, John was quite tech savvy. He always enjoyed getting new gadgets, and he is survived by many boxes of old cords and spare parts. John was a voracious reader and, before the digital age, always carried a book around with him so that he could read his latest mystery or action/adventure novel if an opportunity presented itself. He consumed the news every day and enjoyed discussing current events, politics, and economics with others. He was a devoted fan of the Chicago Bears and the Michigan Wolverines. John loved listening to music and possessed an eclectic collection of music spanning many eras and genres; some favorites included Lady Gaga and the Rolling Stones. John loved to travel. He took great joy in reading a book while suntanning on beaches or by pools. But in his later life, after his son John Michael moved to Germany and then Switzerland, John's favorite travel destination became Europe. He was fortunate to have the opportunity to visit many countries in western Europe including Greece, Portugal, France, Germany, Sweden, Spain, Italy, and Switzerland; he was fascinated by the cultural differences, and he found many wonderful new desserts to try there. John had an insatiable sweet tooth and a bizarre diet low in nutritious foods. A family joke was that you couldn't ask him to pick up green vegetables from the grocery store because he won't be able to identify them by name. John will be remembered for his love of shoestring potato chips, baked potatoes, Win Schuler's and Velveeta cheese, refrigerated Keebler's fudge graham cookies, canned fruit, pudding cups, and ice cream.
John's greatest joy was his family. He was a devoted husband, father, brother, uncle, and grandfather. He was the best grandfather ever – he helped raise his 3 grandsons, traveling to Alabama and Pennsylvania frequently to see them and care for them. He had a gentle manner and jovial spirit which endeared him to children. John loved playing with and talking to children, and he enjoyed being involved in all aspects of his grandsons' care and affairs. He made a noble effort to get to know their friends and befriend their friends' parents. He frequently shared photos of and updates on his nieces, nephews, and grandnieces/nephews. He and Kate were present for every one of each grandsons' birthdays and attended many school and sports events over the years. John encouraged his own children to have high aspirations and perform well in school; he was committed to providing them with a good education, starting with parochial school at St. Fabian Elementary, and concluding with each of them receiving an undergraduate degree from the University of Michigan, Ann Arbor. They all went on to also receive a masters or doctoral level graduate education to his delight. It was especially meaningful to John that his daughter Megan followed in his footsteps to become an engineer.
John is survived by wife Kate; daughters Sarah Whitley (Kevin) and Megan Kern; son John Michael Kern (François Plumey); grandsons Jackson, Graham, and Alister Whitley; sisters Marianne Wessel (Bill) and Jeanne Bender (David); brother Robert Kern (Sydney); brother-in-law Laurence Fahey; sister-in-law Margaret Miller (Mack); nieces Kris Wessel, Laura Starks (Lee), Kathleen Jopp (Dave), Karla McBrayer (Jeff), Tammy Bender (Scott), Sabrina Wisniewski (Greg), and Morgan Miller (A.J.); nephews Michael Wessel, David Bender (Laura), Jeremy Bender (Billie), Michael Kern (Jennifer), and Michael Miller; also great nieces, nephews, cousins, and other relatives including the Whitley, Tantum, Miller, Mangan, Larson, Geier, Lemming, Borchers, and Plumey families, and friends including special friends Edward and Patricia Shea, Dave and Jane Payne, and Christine and Patrick Devine.
John will be missed by all who knew him, as he was a kind, funny, silly, generous, inspiring, incredible, and loving person that was an honor to know.
Visitation will be Sunday, August 30th, from 2:00 p.m. until 8:00 p.m. at McCabe Funeral Home (31950 W. 12 Mile Rd., Farmington Hills, MI 48334). A celebration of John's life will take place on Monday, August 31st, at St. Fabian Catholic Church (32200 W. 12 Mile Rd., Farmington Hills, MI 48334) with a Funeral Mass at 11:00 a.m., preceded by a 30 minute in-state visitation. An outdoor luncheon will follow at Café Cortina (30715 West 10 Mile Rd., Farmington Hills, MI 48336) from 1:00 p.m. until 4:00 p.m.; please RSVP to Sarah Whitley (205)531-0671 or sarahkernwhitley@gmail.com. We welcome family and friends to attend all events with COVID precautions taken. Those in attendance will be required to wear a face mask/covering for the protection of everyone.
The family requests that in lieu of flowers, donations be made to Karmanos Cancer Center fund that directly supports family support groups (www.karmanos.org, indicate in memory of John Kern, contact: Kathleen Hardy hardyk@karmanos.org) or to the John Kern Legacy Scholarship Fund that will raise funds to assist south Chicago youth in going to college.