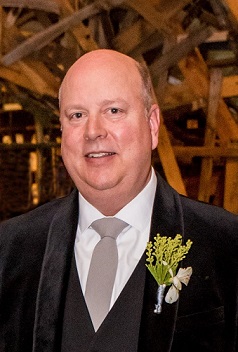 Michael J. Cairns
June 18, 1962 - September 7, 2020
Michael John was born on June 18, 1962 in Grosse Pointe, Michigan to Francis and Therese Cairns. He was the fourth child born of five, joining his siblings into a loving home.
Mike graduated from Grosse Pointe North in 1980 and went on to complete his bachelor's degree in Mechanical Engineering from Western Michigan University. Following graduation, he became employed with Chrysler and completed his education at Wayne State University earning an MBA.
In 1987, Mike met Rosemary Jakubiec through her brother, Steve, who worked with Mike at Chrysler. The pair hit it off from the beginning, a match made in heaven. The couple became engaged after 10 months of dating and married shortly after. Following their nuptials came four beautiful children: Stefanie, Kevin, Christina, and Julianne.
As the children grew, Mike fit into the role as dad and chauffeur, taking them to their sporting events and activities. He was a hockey coach and 'dance dad', always enjoying opportunities to spend time with his children. Mike was welcoming, having the 'fun' house meant everyone could come over for time in the pool and yard games. He was his children's landscaper, plumber, electrician, and financial advisor. Holidays were spent surrounded by family and Mike ushered his three in-laws in with open arms.
Mike always held a strong Catholic faith as it guided him through his life. He and Rosemary are longtime parishioners at St. Fabian Catholic Church, raising their children to reflect their morals and values. He was a giver, generous with his time and advice, helping others was his passion.
Mike was always a hard worker, selfless beyond measure, and would do anything for his wife, children, and family. His love and kindness will be deeply missed.
Michael J. Cairns passed away September 7, 2020 at the age of 58, at his favorite place, the lake house.
He will be lovingly missed by his wife Rosemary of 31 years. His devoted children: Stefanie (Bradford) Hebden, Kevin (Maggie), Christina (Patrick) Charland, and Julianne. His cherished siblings: Robert, Mary Pat Michalzuk, Terry (Anne), and Catherine (Aaron) Grace and in-laws Steven (Mary Lou) Jakubiec and the late Kenneth (Debbie) Jakubiec. His dear father Frank (Geri) and the late Therese and his many beloved nieces, nephews, and friends.
Mr. Cairns' family will receive friends on Saturday, September 12th, during his Memorial Gathering beginning at 10 a.m. until the time of his Memorial Mass at 11 a.m. at St. Fabian Catholic Church, 32200 W. 12 Mile Rd., Farmington Hills. He will be laid to rest at Holy Sepulchre Cemetery, Southfield. In lieu of flowers, Memorial Contributions may be made to Karmanos Cancer Institute in his name.