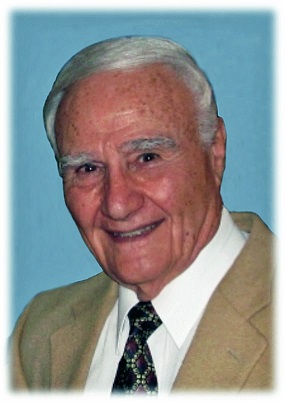 Gabriel Tiberio
April 9, 1924 - April 23, 2022
Gabriel Tiberio of Farmington Hills, passed away on April 23, 2022 at the age of 98. Gabe was born on April 9, 1924 in Sepino, Italy. He came to the United States in 1931 and settled in Rochester, New York with his parents.
After graduating from high school, Gabe served in the U.S. Navy during World War II on an LST in the Pacific, and later earned a BS in Mechanical Engineering from the University of Rochester in 1950.
Gabe spent the majority of his career working for General Motors. He began as a Mechanical Engineer with the Rochester Products Division of GM, reaching the level of Superintendent before accepting a promotion to General Motors headquarters in Detroit in 1961. He worked there and at the GM Tech Center in Warren in several capacities over the years in the areas of engineering, environmental, energy, and plant and manufacturing development. He retired in 1987 as Executive Director of Advanced Manufacturing Engineering. Gabe served on the GM Patent Policy Committee, authored numerous articles on the environment, air pollution controls, and utility rates for industry, and testified before the U.S. Congress on environmental quality concerns.
He was committed to his profession as shown by his election as a Fellow in the Engineering Society of Detroit (serving as Chairman of the College of Fellows in 1987), a member of the Trustees Council at the University of Rochester, and a member of the Board of Directors at Rensselaer Polytechnic Institute Center for Manufacturing Productivity in Troy, NY.
Gabe will be most remembered, however, for his commitment to continued learning, through constant reading and acquisition of new skills, since he did not believe that retirement or old age were sedentary sports. He was especially proud of the countless hours he volunteered at the MSU Tollgate Farm and Education Center where he designed and worked in gardens, experimented with new growing techniques and furthered the agricultural goals of the Center. He was given the Volunteer of the Year Award for his efforts.
He was devoted to his family with whom he spent time coaching sports, helping with homework, having Grandpa days with his grandchildren, and insisting everyone play bocci ball at summer family gatherings. He grew his annual variety of flowers and vegetables that were shared with neighbors and family, and took care of his gardens and yard well into his 80's, using the skills he acquired as an Advanced Master Gardner. He was also an avid photographer and woodworker which kept him busy during the winter months.
Gabe was preceded in death by his wife of 66 years, Jeannette, and is survived by his children Suanne Tiberio Trimmer (Kevin) and Steven J. Tiberio; grandchildren Daniel S. Trimmer (Christy), David A. Trimmer (Bridget), Matthew Tiberio, Adam Tiberio, and Jerald S. Harris; and great-grandchildren Graham, Caroline, Noah and Quinn Trimmer.
A private interment and memorial service will be held for the immediate family at the Great Lakes National Cemetery in Holly, Michigan. In honor of Gabe, memorial contributions may be made to the Garden Fund of the MSU Tollgate Farm and Education Center in Novi, Michigan, 28115 Meadowbrook Rd., Novi, Mi 48377; www.canr.msu.edu/tollgate