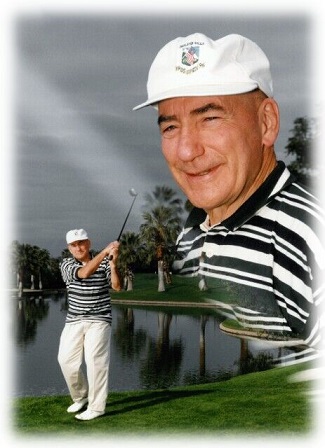 George A. Pope
March 23, 1929 - April 27, 2022
George A. Pope, age 93 of Farmington Hills, passed away April 27, 2022.
George was born on March 23, 1929, in Detroit, to Nestor and Lucilia Pope. Growing up as the son of two immigrants, George proudly worked a newspaper delivery route by bicycle and played basketball and football. After graduating from Baldwin High School, he was posted in Alaska with the United States Army during the Korean War. When George returned home to his young wife and newborn son, he attended night school at Wayne State University and began working for Detroit Edison as a dispatcher and later, a computer programmer, while he raised four sons with his first beloved wife, Doris. He was an early adopter of new technology and drove Edison's electric car prototype and was often stranded on the side of the freeway in the late 1960s. He retired as a systems analyst after more than four decades of dedication to the company.
George was an active father of four boys who served in many community roles in Berkley. He drove the church bus to pick up children for Sunday School at Berkley Community Church for 20 years. He organized Berkley Boys Little League Baseball and helped lead Boys Brigade winter camping trips on the Au Sable River. George greatly enjoyed his carefully planned, month-long family roadtrips leading his boys through 6000 miles of Canada, the West, and Florida. He also served on the Board of Directors for the Detroit Edison Credit Union for nearly three decades. George loved playing golf, and after retirement he looked forward to time at Hilton Head Island every winter. When George married Helen, his second beloved wife, they continued to travel and enjoy time with family. George will be dearly missed by all who knew and loved him.
George was preceded in death by his parents, Nestor and Lucilia (nee. Abranches) Pope; his first wife of 53 years, Doris (nee. Keaser); his children, Steve R. and Johnny A. Pope; and his grandchild, Jamie Pope.
George is survived by his second wife of 17 years, Helen (nee. Ege); his brother, Robert (Joan) Pope; his children, Richard R. (the late Debbie) Pope and Curtis J. (Carol) Pope; his grandchildren, Kristen (Adam) Muehlhauser, Curtis (Melanie) Pope II and step-grandchildren, Aaron, Ryan, and Ethan Tinsley; and his great-grandchildren, Abigail, Benjamin, and Elias Muehlhauser.
Visitation for Mr. Pope will be held on Monday, May 2, from 10:00 a.m. until the time of his Funeral Service at 11:00 a.m. at McCabe Funeral Home, 31950 W. 12 Mile Rd., Farmington Hills. Mr. Pope will be laid to rest in Roseland Park Cemetery, Berkley.
In lieu of flowers, memorial donations are appreciated to Faith Covenant Church, 35415 W. 14 Mile Rd, Farmington Hills, MI 48331 or by donating online at https://www.4fcc.org/giving.