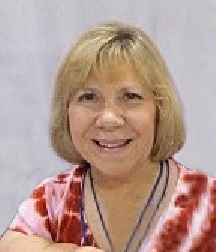 Lydia May Graber
November 1, 1950 - June 3, 2022
Lydia May Graber passed away June 3, 2022 at the age of 71.
She was the beloved wife of Marvin for 34 years; cherished sister of Jane (Tom) Robertson and Gail (Robert) Moine and sister-in-law of Esther Zwiersta, Nelson (Ruby), Glen (Polly), Jonas (Diane), Irene (Lester) Hochstetler, Paul (Carol), and the late Harvey (Terry) Graber; devoted aunt to several nieces and nephews; and dear daughter of the late John and Jeanne Thomas.
Lydia May was born on November 1, 1950 in Detroit to John and Jeanne Thomas. She was the youngest of three girls, growing up in the Brightmoor neighborhood. Lydia attended Holy Cross Lutheran School for elementary and Lutheran High West before transferring to Redford High School where she completed her education in 1968. Growing up, Lydia was always tenacious, she had ambition. If Lydia wanted something, she went after it. This attitude assisted her as she went through life and the many challenges she faced. From childhood, Lydia underwent countless surgeries and therapies but kept persevering. She enjoyed the little things like roller skating with her family and being funny with her friends.
After graduation, Lydia set out to find her career. She worked briefly for the local phone company before setting her sights on California. At 22, Lydia packed her bags and made the trip out West to Los Angeles, settling in the Burbank, North Hollywood area. She began to pursue her dreams. Lydia found herself working as a stunt double and stand-in in both Irreconcilable Differences and Under the Rainbow before landing a role as an Ewok in Star Wars: Episode VI Return of the Jedi. Lydia continued her education at Glendale College, studying finance and accounting, working for the Bank of America. After spending several years in California, Lydia made her way back home to Michigan. She continued her career in finance working as a banker and maintained her status with the LPA community.
In 1986 at an annual Little People of America (LPA) convention, Lydia met the love of her life, Marvin Graber. The two instantly connected and before too long, Marvin moved to Michigan from Indiana to be with Lydia. The couple celebrated their love with a large wedding on October 1, 1988 at Our Shepherd Lutheran in Birmingham. Lydia and Marvin lived happily in Waterford before finding themselves in Sumpter Township where they've resided for almost 30 years.
Lydia and Marvin loved to travel, frequenting Hawaii and traveling around Europe, visiting France, Italy, and England where close friends were always there to welcome them. Although Lydia continued to undergo multiple hip and knee replacements and several bone fusions, she remained unstoppable through her hardships.
Lydia and Marvin were longtime members of Faith Lutheran Church in Ypsilanti and she truly enjoyed dedicating her time and efforts to the church. Lydia sang in the choir and was active in the youth organizations, assisting with crafts and activities. She loved making her own greeting cards and was always thoughtful.
Lydia has been a member of LPA since the early 1960's, serving as Region and District President (covering 5 states) for a number of years. Lydia was an activist and loved public speaking. She was an advocate for disabilities and was often asked to share at events and engagements. She was always willing to lend herself to help. Lydia was a member of the State of Michigan Governor's Board Commission on Disability and played a pivotal role in the completion of Joe Lewis Arena and Ford Field in Detroit. She was also a longtime member of the Optimist Club in Pontiac.
Lydia was a devoted wife, sister, and aunt. She was gutsy and daring, her courageous soul will be missed by her loving family and friends.
Lydia's family will receive friends on Wednesday, June 8, from 2:00 p.m. – 8:00 p.m. at McCabe Funeral Home: Canton Chapel, 851 N. Canton Center Road, Canton. She will lie in state on Thursday, June 9, at 10:30 a.m. until the time of her Funeral Service at 11:00 a.m. at Faith Lutheran Church, 1255 E. Forest Avenue, Ypsilanti. Lydia will be laid to rest at Glen Eden Lutheran Memorial Park in Livonia.
In lieu of flowers, Memorial Contributions may be made to Faith Lutheran Church, 1255 E. Forest Avenue, Ypsilanti or Little People of America, c/o Ron Roskamp, 513 Roundtree NE, Ada, MI 49301 in Lydia's name.