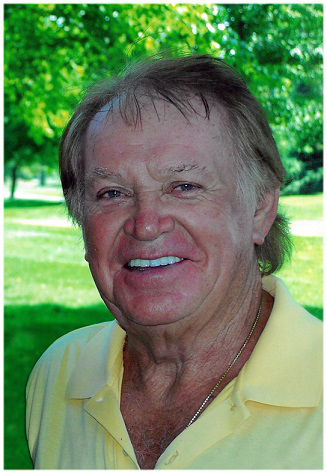 Richard 'Dick' L. Scott
March 7, 1936 - September 16, 2022
Richard 'Dick' L. Scott entered eternal life on September 16, 2022, at the age of 86. He was the loving husband of the late Diane; devoted father of Jeff (Crystal), Jud (Amy), Jason (Joy), and Nichole (Jim) Gallagher; cherished grandfather of Lauren, Jessica, Lucas, Judson Jr., Alex, Jacob, Darby, Ryan, and Sarah; and dear brother of Jean (Dan) Chambers and the late Paul Scott. Dick also leaves many beloved friends and colleagues.
Richard Lee was born in St. Clair Shores on March 7, 1936, to Warren and Verla Scott. Second born of three, Dick graduated from South Lake High School in St. Clair Shores and went onto pursue his sporting achievements at William Penn University for two years before turning his studies to Eastern Michigan University. While at Eastern, Dick struck luck when he was set up on a blind date with a lovely woman named Diane Pfent. While dating Diane, Dick made the decision to serve his country and joined the United States Marines. After his discharge, he started his career in the automotive industry in 1960 and shortly after married Diane on August 5, 1961, in Detroit.
Dick started in the automobile business as a new car salesman at White Oldsmobile, and later that year went to Shalla Chevrolet. In 1968, Dick started at Randy Wood Pontiac to better his career and become Sales Manager. In 1971, after three years of hard work as the sales manager, he became General Manager for Randy Wood.
With his years of dealership experience he decided to buy his first dealership in 1974. He moved to Albion, Michigan and opened Dick Scott Buick, Pontiac, and GMC Truck. In 1979, he decided he had bigger things in mind and sold the dealership in Albion and bought Jack Selle Buick in Plymouth, Michigan. This store was a great success, so great; he bought the neighboring A&W restaurant to expand a few years after opening.
In 1983, Dick Scott leased the corner on Ann Arbor Road and Main Street that the Chrysler Dodge Jeep Ram dealership is situated on today and acquired the open point Dodge franchise. In 1985, he bought the land, and 1985-1986 and completed a large renovation of the property on which the store stands today. In 1987 he broke ground, renovating the building and again in 2011 with another renovation, completing Dick Scott Chrysler Dodge Jeep Ram, as it exists today.
In 1987, Dick Scott purchased 43 acres on Fowlerville Road, off I-96. In 1988, he broke ground on the current Dick Scott Motor Mall (Chrysler, Dodge, Dodge Truck and Jeep) and opened its doors in 1989. This building was renovated in 1998 and again in 2009 to complete the updates to the Motor Mall, making it what it is today.
In January of 2009, he opened Indian Motorcycle in Canton, Michigan. He moved to Plymouth Road in Livonia to a bigger building and added the Polaris Off Road Franchise and again in 2022 to a larger building in Livonia, Michigan while adding another franchise, Triumph Motorcycle. His four children work in the dealerships and have gained incredible knowledge and love of the business from their father.
Dick was also a sports enthusiast and an avid golfer, passing down his knack for and patience to his children. He was a lifetime member of Meadowbrook Country Club in Northville and Duck Lake Country Club in Albion Michigan, and a member of Adios Golf Club in Coconut Creek, Florida since 1999, serving as president in 2009-10. Dick was proud to be a part of the 'Hole-in-One' community, shooting his third hole-in-one during one of his last rounds at Meadowbrook, just months ago.
Dick had the most generous soul, always caring for and giving to those who were in need. He was a founding member of Children's Charities at ADIOS as well as an active supporter of the Ted Lindsay Foundation and Henry Ford Health System to name a few.
Dick was an achiever with a drive that could not be matched. He had an energy that radiated from him and was an amazing storyteller, commanding whichever room he was in. Dick was down to earth, and well loved by everyone he met. He had a never quit attitude that successfully carried him through life and always set a good example for his children, in turn creating a successful family dynamic. Dick's family held the utmost importance, close behind his devout Christianity. He frequented Berean Baptist Church in Livonia and knew the necessity of faith. Above all, Dick's love and influence will be carried on by his beloved family and friends and he will forever be missed and cherished.
Mr. Scott's family will receive friends on Sunday, September 25th, from 4:00 p.m. – 8:00 p.m. and Monday, September 26th, from 2:00 p.m. – 8:00 p.m. with a 7:00 p.m. Eulogy Service at McCabe Funeral Home, 31950 W. 12 Mile Rd., Farmington Hills. He will lie in state Tuesday, September 27th, at 10:30 a.m. until the time of his Funeral Service at 11:00 a.m. at Berean Baptist Church, 38303 Eight Mile Rd., Livonia. Dick will be reunited with his beloved Diane during a private service at Glen Eden Memorial Park, Livonia.
Dick's Funeral Service will be livestreamed through Berean Baptist Church www.bereanlife.org
In lieu of flowers, please consider a gift to the Henry Ford Cancer Institute (HFCI) at Henry Ford Health System where Dick received his care. Checks may be made out to Henry Ford Health System noting Henry Ford Cancer Institute (HFCI) on the memo line. Mail checks to Henry Ford Health System, Office of Development, One Ford Place, Suite 5A, Detroit, MI 48202. To make an online gift, please visit the website, https://www.henryford.com/development/make-a-gift, and direct your gift to the Henry Ford Cancer Institute (HFCI) in Dick's memory. You may also make a gift via phone by calling the Office of Development at (313) 876-1031.