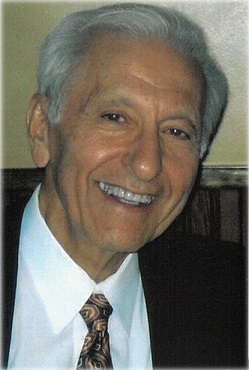 George M. Blaty, JD
August 29, 1929 - August 14, 2020


George was born during the depression on August 29, 1929. His parents were poor immigrants who loved their children and wanted them to have a good life. He was born right after the death of his eldest brother Louie, who remained in his prayers the rest of his life. He loved his older sisters and younger brother so much. The only surviving sibling is his beloved sister Alice. George had an unwavering belief in life's goodness. He was extraordinarily generous even as a child. When a death in his family occurred shortly before Christmas, the family did not celebrate that year with a tree or presents, which was the custom. George had a beautiful voice and was selected to sing "O Holy Night" at the Blessed Sacrament Cathedral Midnight mass. However, unlike the other boys he didn't have a blazer and he was sent home. When the Priest found out, he drove to George's house and brought him back to the church to perform his solo. The Priest gave him a bag of Sanders chocolate Santa's for his beautiful performance. When George got home, he immediately woke up his brother Bob and the two of them celebrated by eating the whole bag of chocolate until the Christmas spirit and chocolate filled them both. It was a proud moment when many years later his youngest daughter Cathy sang "O Holy Night" here at St. Fabian. His family and friends can give countless such examples of his selfless generosity.
As he grew, baseball became his favorite pastime and lifelong passion. He enjoyed many a game playing second base to his cousin Tony's shortstop. However, one fateful game when he was 17 years old, the ball got lost in the sun and found his 3 front teeth. The doctor told his parents that it would be easier for him to pull a fourth tooth out in order to make a more balanced denture. He wore dentures the rest of his life, but as he would proudly tell his children, he lost his teeth but made the play. Losing his teeth never stopped him from smiling as he watched his grandsons Michael and Matthew play second base and shortstop continuing his love of baseball. Over the years, countless phone calls were made to all his grandsons to ensure he never missed the opening pitch of a Detroit Tigers game.
George worked his way through college and law school working long hours at his father's small grocery store. He believed the way to improve his circumstances was through higher education. He worked so many hours that he did not have a chance to properly prepare to take the Annual Bar Exam. The Dean of the University paid a visit to his home to advise him not to take the exam since he believed he had no chance of passing, and it would reflect poorly upon the school. George had already received his draft notice to enter the Army. He decided to proceed with the bar exam as scheduled so that he could serve his country as a defense attorney trying military court martials. He took the bar, and I can proudly announce that he was one of only 3 people who passed the bar in the City of Highland Park that year. In a wonderful twist, after his retirement from the practice of law, The University of Detroit Law School honored him by recognizing his achievements and elected him Alumni of the year.
George entered basic training where he was injured during a training exercise. A smoke bomb was thrown at him while crawling under barbed wire. Unable to move, he inhaled the smoke and scarred his lungs for life. George spent the next six weeks in the hospital and then for love of country returned to active duty. After his injury, his mother Mary was concerned that he would be sent to Korea in the immediate aftermath of the war. She need not have worried for George found a unique way to appease her fears. George was a great dancer. Conveniently the General was not. The General's wife requested that George compete with her in the annual dance contest. One smooth "Charleston" later, trophy in hand, he was sent to Alaska.
Once discharged from the Army, lady luck smiled upon him as he went to a party and met the prettiest girl he had ever seen. Susan Attoun quickly became his sweetheart and love of his life for the next 63 years. Happily they were married in 1957 and every year thereafter George counted Susan as his greatest blessing. Having his beautiful and devoted wife by his side, gave him the confidence to achieve all his dreams. It didn't take long before they had their first child. Marylou was born one year later and became the apple of George's eye.
George and Susan's family quickly expanded with another daughter Judy, a namesake in his son George, who would eventually become his favorite golf partner, and Cathy completed the family. Susan adored her younger sister Hope, so George decided to arrange for her to come to the United States and stay with the family. Little did he know that Hope would become a true sister to him as well.
George supported his family employed as an Assistant Attorney General for the State of Michigan as the Director of Labor for the Michigan Employment Security Commission. Over the years, he was not just a friend but also a mentor to the many Attorneys that worked for him. His professional accomplishments were many but included successfully litigating on behalf of the people of our state in the Michigan Supreme Court, the Michigan Court of Appeals, and the United States Supreme Court where the justices ruled in his favor due to the eloquence of his reasoning. George retired after 42 years, having set precedent for Michigan law 36 times.
George was a life long member of the Catholic Church, who rarely missed mass. He lived the teachings of the church in word and in deed. He felt serving God was his calling as a Catholic and he did that faithfully. He served the church almost all of his adult life as a lector and an usher. He loved being on the Alter and preaching the word of the Lord. George was a man of rare integrity, but blessed with empathy. His favorite saying was, when choosing between being right and being kind, choose kindness.
In the end, George considered his greatest legacy to be his grandchildren. He loved them as he did his children, unconditionally and with absolute devotion. He enjoyed immensely having his youngest grandchildren Anthony and Maria come to his house. Seeing them always brightened his day. Drew always has a funny story to tell to make his grandfather laugh. George loved to watch Taylor dance. It reminded him of his younger days when Susan was his favorite dance partner, and when she was unable to dance, his daughter Judy cleared the dance floor with him. Michael and Matthew's professional success was a great source of pride for him. George enjoyed bonding with Julie over their shared Catholic school upbringing. When Alzheimer's disease robbed George of his memories, his grandson Matt was devoted to him and replaced those memories with love.
Anyone that knew George knew that he always liked to give a toast at every family event. This toast was from New Years Eve several years ago. In closing, George would want me to share this with you.
May your pockets be heavy and your heart be light,
May good luck pursue you each morning and night
May the roof above us never fall in,
and may we family and friends gathered never fall out.
May you live as long as you want, and never want as long as you live.
May your neighbors respect you, trouble neglect you, the angels protect you and heaven accept you.
George M. Blaty, JD passed away August 14, 2020 at the age of 90. He was the loving husband of Susan for 63 years; devoted father of Marylou (Keith) Waineo, Judith (Gary) Seifert, George (Rita) Blaty, and Kathryn (Matt) Curtis; cherished grandfather of Matthew, Michael, Matthew, Taylor, Drew, Julie, Anthony, and Maria; and dear brother of Alice Nemer and the late Lorraine, Louie, and Robert.
Mr. Blaty's family will receive friends on Thursday, August 20th, from 3 p.m. - 8 p.m. with a 7 p.m. Rosary Service at McCabe Funeral Home, 31950 W. 12 Mile Rd., Farmington Hills. He will lie in state Friday, August 21st, at 10:30 a.m. with his Funeral Mass following at 11 a.m. at St. Fabian Catholic Church, 32200 W. 12 Mile Rd., Farmington Hills. He will be laid to rest at Oakland Hills Memorial Park, Novi. Memorial Contributions may be made to St. Jude Children's Research Hospital in his name.
Politely keeping everyone's safety in mind, family and friends will be asked to wear a mask and maintain proper distancing while attending visitation and funeral services.