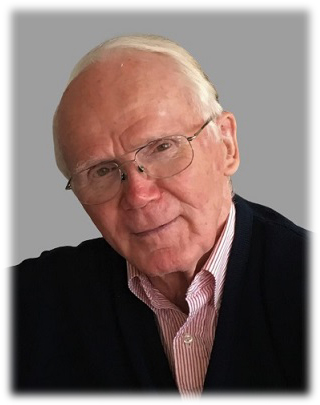 Melvin "Ernie" Orchard
August 25, 1925 - October 22, 2021
Melvin Ernest (Ernie) Orchard passed away peacefully on Friday, October 22, 2021, surrounded by his family.
He has joined his beloved wife of 71 years, Barbara. Ernie leaves his cherished daughters, Beverly (Larry) Tysklind, Sandra Thomas, Susan (Chris) Malone and Peggy (Cliff) Roberts; loving grandchildren, Carrie (Chris) Hurney, Jeff (April) Sudds, Justin Thomas, Kate Roberts and Anna Roberts; and great-grandchildren, Zander, Zealyn and Zavier Sudds, and Kyle, Dylan and Tyler Hurney, and sister-in-law, Mary Ann Kilberg.
Ernie was born on August 25, 1925, in Kearsarge, Michigan, to the late Ernest and Clarice (Rogers) Orchard. He graduated from Calumet High School and, at the age of 17, joined the United States Army, 3126th Signal Service Company.
After faithfully serving his country, Ernie enrolled in Michigan Technological University to study Civil Engineering in 1946 and graduated in 1949. While he was in college, he met Barbara Lantto at a Christmas Dance in Laurium in December 1947. The beautiful couple dated for a short period of time before tying the knot on September 11, 1948, in Calumet.
After Ernie graduated, the pair moved to Detroit to pursue his career in civil engineering. They soon started their family and were blessed with four daughters, and they raised their family in Redford Twp. before settling in Farmington Hills in 1965.
Ernie became a successful business owner as the co-founder and president of Orchard, Hiltz & McCliment, a civil engineering firm (originally John E. Hiltz & Associates established in 1962). He was highly respected during his years at OHM for being kind, honest, and fair minded. Ernie built long lasting friendships with both clients and coworkers, becoming a mentor for many. He grew his original 20-person engineering firm into a consulting team of more than 100 people. He had an enduring reputation for quality work and a focus on giving back locally. Ernie was an active member in multiple industry organizations and also the Boys and Girls Club of Auburn Hills. He received the President's Award for his many years of service to ACEC Michigan and was also elected a Fellow of ACEC in recognition of his many contributions to the engineering profession. In 2014 he received the Vernon B. Spaulding Leadership award from ACEC. Ernie retired from OHM in January,1993 after 44 years in the civil engineering profession.
After retirement, Ernie and Barbara spent every summer at their cottage on Elk Lake, making it a treasured destination for their family. Ernie and Barbara became members of the NOMADS, a private travel group, and they made many lifelong friends on those trips. Ernie served meals at the Baldwin Center in Pontiac and delivered Meals on Wheels to residents when home in Farmington Hills.
Ernie's love of genealogy took him to England, Australia and all around the US tracing his family ancestry. Ernie made sure that every one of his daughters traveled to England with him, the birthplace of his grandparents. His other favorite pastimes were bridge, reading, golf, skiing, boating, skating, family vacations and spending time with his grandchildren and friends.
Ernie was a member of the Elks, Masons, and the Academy of Engineers at his alma mater, Michigan Tech. Ernie was a dedicated father; every year he created an ice rink in the family's backyard for their pleasure.
Ernie and Barbara were longtime members of Orchard United Methodist Church of Farmington Hills. Ernie enjoyed being on various committees, getting exercise with the men's walking group and playing bridge with other members. They also attended services at Calumet Methodist and Williamsburg Methodist when they were at those locations.
In 2015, Ernie and Barbara moved to the Fox Run Senior community in Novi where they created another circle of treasured friends. He joined other Fox Run veterans for a wonderful trip to Washington DC through the Talons Out organization to visit the war memorials.
Ernie was a generous and loving man. He was also an incredible grandfather. He baby sat when he could and attended sporting events often. He made sure all his grandchildren went to college. He cared deeply for his family and their wellbeing.
Mr. Orchard's family will receive friends on Tuesday, November 2nd, from 2:00 p.m. – 8:00 p.m. at McCabe Funeral Home, 31950 W. 12 Mile Rd., Farmington Hills. He will lie in state on Wednesday, November 3rd, at 11:00 a.m. until the time of his Funeral Service at 11:30 a.m. at Orchard United Methodist Church, 30450 Farmington Rd., Farmington Hills, MI 48334. Mr. Orchard will be laid to rest in Great Lakes National Cemetery, Holly on Thursday, November 4th, at 2:30 p.m.
In lieu of flowers, Memorial Contributions may be made to the Ernest Orchard Endowed Scholarship Fund #4874 Michigan Tech Fund, 1400 Townsend Drive, Houghton, MI 49931-1295 and Orchard United Methodist Church, www.orchardumc.org/giving