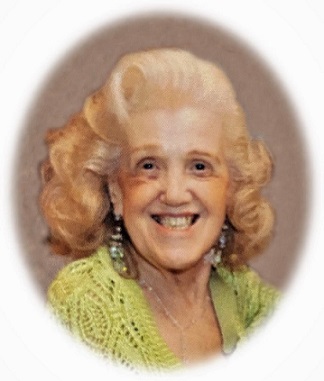 Audrey C. Sinelli
February 2, 1926 - May 22, 2021
Audrey C. Sinelli passed away peacefully surrounded by her family, on May 22, 2021 at the age of 95. She was the loving wife of Frank 'Lee' for nearly 72 years; devoted mother of Mark (Claudia), Lee (Donna), Rick (Diane), and Diane (Ken) Sinelli-Chuchla; cherished nona and grandma to Carrie (Ryan) Krueger, Mark Sinelli, Angela (Brent) Wojtyniak, Michael (Lollie) Sinelli, Juliane Sinelli, Jaclyn (Tyler) Baker, Adam (Nikki) Chuchla, Ashley (Cody Thomas) Chuchla, Anthony 'AJ' and Austin Chuchla; great grandma of Jeffrey and Jack Krueger, Brooklyn and Colton Wojtyniak, Quinn and Sawyer Sinelli, and Tyler Baker. Dear sister of John, Frank (late Katy), Charles (Pat and the late Marie), and Celia, and the late Elmer Jr., late Violet (Don) Deming, late Helen (Harold) Sakalian, and late baby Marion, David, and Ava. She is the daughter of the late Elmer and late Celia Hoffmann. She also leaves many nieces, nephews, extended family members and friends.
Audrey Clara was born on February 2, 1926 in Detroit to Elmer and Celia Hoffmann. Growing up on Idaho Street, her family was large, loving, and close knit. Audrey graduated from Cooley High School in 1944 and began a job working for the government in downtown Detroit. One day while downtown, Audrey met Frank Lee Sinelli at a confectionary shop. The couple enjoyed each other's company and would meet under Kern's clock to catch up. It was perfect, they were in the same group of friends and social scene. Audrey and Lee were married on July 30, 1949 at St. John Vianney and started their family shortly after.
Blessed with two boys, Audrey decided to obtain her beautician license and worked out of her home for several years. She would cut her husband's, sisters', and mother-in-law's hair. Audrey would also cut neighbor's and friends' hair, each one enjoying the visit and company, staying and socializing after their cut. Happy hour became a regular occurrence; Audrey loved to celebrate, any reason to get together and dress up, she was there. Audrey and Lee also loved to go to Nicky's in Highland Park as those were 'the good old days'. They loved to dance and would go out on the weekends to have their time together, they had a group of friends that were more like family. They enjoyed parties at the Piemontese Club, especially New Year's Eve.
The pair was blessed again with two more children, a boy and a girl. They raised their family in Detroit and moved to Farmington Hills, all the while Audrey still did it all. Dinner was always ready at 6 p.m. and the children never had to worry about washing dishes or doing laundry. Audrey loved to host family gatherings and holidays with home cooked meals surrounded by love. She was a great cook and made Italian, German, and Polish meals for her family.
Audrey went with the flow and never had a bad word to say about anyone. She was an avid Tigers fan, watching the games at home with Lee. Audrey's favorite movie was Now Voyager with Bette Davis and favorite songs were "Let Me Call You Sweetheart" and "You Are My Sunshine." Florida and Vegas became fun adventures for the couple. She loved to shop and rarely left the mall without a gift for someone.
Audrey's catholic faith was very important to her, instilling the same in her children. They attended Detroit Catholic Schools and mass regularly. Audrey would recite the rosary every night, praying on her knees for loved ones. She loved spending time with her grandchildren; attending every event; sporting or otherwise. Audrey was truly devoted to her husband Lee, they took care of each other. She was so loved, her kindness and presence will be missed by everyone.
The couple lived in Farmington Hills for 40 years before moving to Novi Lakes. Audrey's family would like to thank the friendly staff at Novi Lakes for the care and compassion of their parents.
Mrs. Sinelli's family will receive friends on Wednesday, May 26th, beginning at 3 p.m. until her 7 p.m. Rosary Service at McCabe Funeral Home, 31950 W. 12 Mile Rd., Farmington Hills. She will lie in state Thursday, May 27th, at 10 a.m. until the time of her Funeral Mass at 10:30 a.m. at St. Fabian Catholic Church, 32200 W. 12 Mile Rd., Farmington Hills. Mrs. Sinelli will be entombed at Oakland Hills Memorial Gardens, Novi. In lieu of flowers, Memorial Contributions to Capuchin Soup Kitchen, National Multiple Sclerosis Society, Goodfellows of Michigan, and Children's Craniofacial Association would be appreciated.