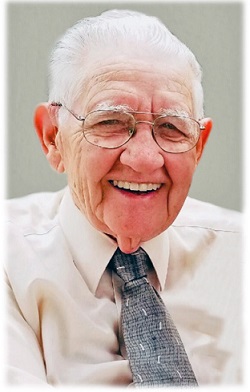 Andrew W. Renfrew
August 17, 1924 - June 4, 2021
Andrew W. Renfrew, age 96 of West Bloomfield, passed away June 4, 2021.
Andrew was born in Glasgow, Scotland on August 17, 1924. As a young boy, Andrew and his mother traveled to America and settled in their new hometown of Detroit. He proudly served in the U.S. Army and thereafter attended Wayne State University, where he earned both his bachelor's and master's degree. While serving in the Army, Andrew attended a bible conference in North Carolina. It was there that he met Gloria, the woman who would become his future wife. After some years they married and returned to Michigan to start their lives together.
Andrew was a strong Christian who dedicated much of his time to numerous organizations throughout his life. He served as a past president of the Detroit Missionary Council and was also an active member of the Christian Expansion, serving as their president as well. He was a talented violin player and enjoyed golfing when he had the chance. Above all things, Andrew was devoted to his family and his Lord. He will be remembered as a wonderful, giving man and will be missed deeply by his loving family.
He was the beloved husband of the late Gloria. Loving father of Janet (Jack) Daniels and the late Donald. Dear grandfather of Andy (Cassie), Emily (Shane) Whelan and Erick (Vanessa) Lorenger. Great-grandfather of Donnie and Shae Elizabeth.
Visitation for Mr. Renfrew will be held on Wednesday, June 9th, at 10:00 a.m., until the time of his funeral service at 12:00 p.m. at McCabe Funeral Home, 31950 W. 12 Mile Rd., Farmington Hills.
Memorial donations in his name are appreciated to Christian Expansion or Detroit Missionary Council.