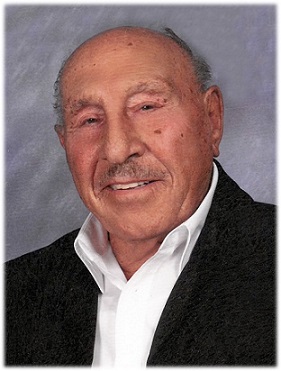 Antonio Benivegna
January 1, 1918 - November 23, 2021
Antonio Benivegna, age 103 of West Bloomfield, passed away November 23, 2021. He was born on January 1st, 1918, to Pietro and Rosa Benivegna in Detroit.
Growing up, Antonio quickly learned the value of an honest day's work. He watched as his father sold fruit from his horse and buggy and soon adopted the same drive and determination as his father. Antonio met Alberta while their respective families were sharing a bi-level home in Detroit, Michigan. They quickly became friends and their relationship blossomed and they became husband and wife in 1939. The love they had for each other grew to include a daughter and son. One of his greatest achievements was becoming a father. He worked hard to provide for his wife and children and enjoyed every aspect of family life along the way. Tony worked a lot, often multiple jobs at once, including owning "Tony's Bike Shop" while working in welding maintenance for Ford Motor Company. He also started his career as a home builder and was the 96th licensed builder in the State of Michigan, eventually establishing Benivegna Building Company, Inc.
His generous and kind-hearted nature never went unnoticed, and he loved to help in any way possible. Later in life, when he became a grandfather, he never missed an opportunity to help with his grandchildren, no matter how small the task. His love of bikes went beyond owning a bike shop, and true to his nature, he gifted all of his grandchildren and great-grandchildren their first bike.
Tony was always the life of the party whether he was with family or friends. Even in his retirement he remained active. He spent much of his time improving his golf game and achieved his first hole-in-one at the age of 93. He also appreciated the opportunities he had to travel. Some of his favorite destinations included trips to Arizona, Las Vegas and Hawaii. Tony was a longtime member of the Italian American Club, frequently attending their pasta dinners where he especially loved to dance. The friendships and memories made with Tony were lifelong, including those made at the Knights of Columbus, Prince of Peace Catholic Church, and his milestone 100th birthday party. Tony touched the lives of so many people and those friendships and memories will continue to live on in the hearts of those who cherished him the most, especially his dear family.
Tony was the beloved husband of the late Alberta for 65 years. Devoted father of Rosemary (Robert) Stover and Ronald (Susan). Proud grandfather of Gina (David) Straub, Jill (John) Gallagher, Todd (Jessica) and Mark (Celena Bezak). Loving great-grandfather of Blanca, Victoria, Allie, Colin, Cassidy and Avery. Predeceased by his siblings Michela, Joseph and Lena.
Visitation for Mr. Benivegna will be held on Tuesday, November 30th, from 4:00 p.m. until 8:00 p.m. with a 7:00 p.m. Rosary Service at McCabe Funeral Home, 31950 W. 12 Mile Rd., Farmington Hills. He will lie in state on Wednesday, December 1st, from 10:30 a.m. until the time of his Funeral Mass at 11:00 a.m. at Prince of Peace Catholic Church, 4300 Walnut Lake Rd., West Bloomfield.
Memorial donations in Tony's name are appreciated to the Society for Progressive Supranuclear Palsy or Alzheimer's Association.
Please note, masks are required while attending the Funeral Mass at Prince of Peace Catholic Church. The family kindly requests masks be worn while attending visitation at the funeral home.