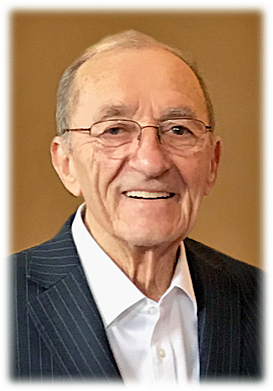 Kiril "Carl" S. Bayoff
November 14, 1930 - November 25, 2021
Kiril "Carl" S. Bayoff , 91, of Commerce Twp, passed away on November 25th peacefully at his home surrounded by his wife, children and family.
Carl was born on November 14, 1930, to Sam and Mitra Bayoff in Dearborn, MI. He was an active member of the Macedonian community during his early childhood and throughout his life. Carl attended Dearborn Fordson High School where he played baseball, football and basketball. After Carl graduated from Fordson in 1948 he attended Henry Ford Community College and later enlisted in the US Army in 1951-52. While stationed in Germany, he made it a point and was able to visit and meet for the 1st time his grandparents in Bouf, Macedonia where his parents were also born.
Carl met Violet Pargoff while they were members of the St Clement Church Youth Group. He would later marry the love of his life on November 22, 1953, and recently celebrated 68 years of marriage. They would have three children, Steven, Laura and Michael.
Carl began working at Browns Bun Bakery in 1948 as a delivery driver. He would later become a franchisee of Little Caesars Pizza that was founded by his sister Marian and brother-in-law Mike Ilitch, and opened store #6 in Dearborn Heights. He would ultimately open 21 more locations during his career. In 1971 he then started working at Blue Line Distributing alongside his father Sam making and mixing the famous Little Caesars spice ingredients. Lastly after his brother-in-law Mike purchased the Detroit Tigers in 1992, a life-long baseball lover, would then move over to Detroit Tigers working in stadium operations before finally retiring in September 30, 2019.
Carl is predeceased by his parents, Sam and Mitra Bayoff and sister, Katherine (Gerald) Stephens. He is survived by his loving wife Violet, children Steven (Sandy) Bayoff, Laura Bayoff Elkins, and Michael (Susan) Bayoff; grandchildren Jennifer (Ken) McClure, Steven Bayoff Jr., Ashley Bayoff, Corey (Genevieve) Elkins, Carla (Brad) Vasquez, Collin (Jami) Elkins, Carson Bayoff and Vaughn Bayoff; and great grandchildren Nolan and Avery McClure, Leighton, Rowan, Finley and Emerson Elkins, Angelina Fox and Skylar Vasquez. He also leaves his loving sister Marian (late Michael) Ilitch, loving brother Tom (Colleen) Bayoff, several nieces, nephews and God-children.
Visitation will be held on Tuesday, November 30th from 2:00 p.m. - 8:00 p.m. with a prayer service beginning at 7:00 p.m. at McCabe Funeral Home, 31950 W. 12 Mile Road, Farmington Hills, MI 48334.
He will lie in state on Wednesday, December 1st, at 10:00 a.m. until the time of his Funeral Service at 10:30 a.m. at St. Clement Ohridski Eastern Orthodox Church,19600 Ford Road, Dearborn, MI 48128.
In lieu of flowers, the family requests donations be made in his name to St. Clement Orthodox Church.