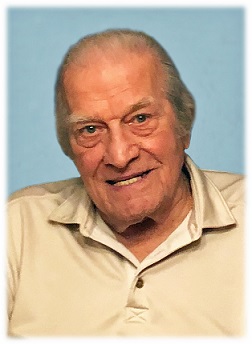 Frank 'Lee' Sinelli
August 5, 1927 - November 29, 2021
Frank 'Lee' Sinelli passed away peacefully surrounded by his family, on November 29, 2021 at the age of 94.
He is the loving husband of the late Audrey for nearly 72 years; devoted father of Mark (Claudia), Lee (Donna), Rick (Diane), and Diane (Ken) Sinelli-Chuchla; cherished papa and grandpa of Carrie (Ryan) Krueger, Mark Sinelli, Angela (Brent) Wojtyniak, Michael (Lollie) Sinelli, Juliane Sinelli, Jaclyn (Tyler) Baker, Adam (Nikki) Chuchla, Ashley (Cody) Thomas, Anthony 'AJ' and Austin Chuchla; great grandpa of Jeffrey and Jack Krueger, Brooklyn and Colton Wojtyniak, Quinn and Sawyer Sinelli, and Tyler Baker II; dear brother of the late John (late Margie), late Irene (late Mel) Mainville, late Theresa (late Fred) Watkins and the late Tony (Liz) Sinelli; and cherished son of the late Camillo and late Angelina Sinelli. Lee also leaves many nieces, nephews, extended family members and friends.
Frank Lee was born on August 5, 1927 in Detroit to Camillo and Angelina Sinelli. Lee was the second youngest of five, surrounded by family and friends as he grew up. He was very close with his siblings, their family held together like glue. Lee grew up in Detroit and was always a hard worker, working to help care for his family during the post-depression era while he went through school. Lee had a lot of friends and could often be found hanging out on 12th Street with them. He enjoyed his time at Gene Tunney Boxing Club, keeping himself busy and in shape, where he learned his incredible rope jumping skills.
One day while downtown, Lee met Audrey Hoffmann at a confectionary shop. The couple enjoyed each other's company and would meet under Kern's clock to catch up. They loved walking together through Palmer Park and going to the RKO Theatre. After graduating from St. Gregory High School, Lee enlisted into the United States Navy and served his country while stationed on a destroyer in the Pacific. At the conclusion of the war, he was discharged home.
After returning home, Lee and Audrey's love story continued and the beautiful couple married on July 30, 1949 at St. John Vianney and started their family shortly after. Lee was called back into the Navy and served his country again during the Korean War. The couple was blessed with two boys. Lee started his career in the retail industry, and was a sporting goods sales manager for several years before joining his family in the construction business. While he worked in the sporting goods industry, he sold anything from cameras to boats. Lee was an impeccable dresser and his career gave him that much more of an opportunity to look sharp. He was dependable and always on time; punctuality was instilled throughout his life.
The importance of family was so strong that Lee and Audrey moved next door to his parents in Detroit, where they resided for many years. They met neighbors that became their lifelong friends. Lee changed jobs and joined his family's business, C&T Cement.
The pair was blessed again with two children, a boy and a girl. They raised their family in Detroit and eventually moved to Farmington Hills. Family life blossomed as dinner was an important staple in the home, always ready at 6:00pm. Lee and Audrey loved to host family gatherings and holidays. Sundays were meant for visiting family and Lee raised his children to respect their elders, always treating them with kindness and compassion.
Lee and Audrey loved to go to Nicky's in Highland Park, where they would get together with family and their group of friends that were more like family. They loved to dance and enjoyed parties at the Piemontese Club. Lee was very proud of his family and always made time to go to his children's sporting events. He spent many years alongside his brother Tony working tirelessly as a cement finisher at their cousins, Joe and Larry Sinelli's business, Charles Sinelli & Sons, where he eventually retired. Lee took care of his parents in their older years, continuing to instill the importance of family.
Lee could often be found working in his yard and garden, tending to his landscape was his favorite pastime. A 'toot' of the horn could be heard as he waved to the known passerby. He was an avid reader and could sit and read novels all day long. He had a collection of more than a thousand books. He loved to educate himself and watch movies, especially older films. Lee was very creative in the kitchen, with soup and stew being his favorite meals to prepare. He was a connoisseur of a fine well-done steak and a nice cold bowl of ice cream. He enjoyed good conversation and took a genuine interest in everyone he met. Lee believed in always giving back, he would do anything for anyone, and would give the shirt off his back (if he happened to be wearing one). Lee was patriotic and true to his Catholic faith and Italian heritage. He was well-liked with a great sense of humor, always making jokes and telling stories to his grandchildren. Lee would tell it like it was and could often be heard saying, 'Honest to God' and 'You can call me anything but don't call me late for dinner!' Lee knew how important family and tradition were and he passed his loving and caring nature down to his children and grandchildren.
The couple lived in Farmington Hills for 40 years before moving to Novi Lakes. Lee's family would like to thank the staff at Novi Lakes for the care and compassion of their parents.
We couldn't shorten this obituary, since our dad could never "make a long story short."
Lee will be forever missed.
Mr. Sinelli's family will receive friends on Monday, December 6th, beginning at 3 p.m. until his 7 p.m. Rosary Service at McCabe Funeral Home, 31950 W. 12 Mile Rd., Farmington Hills. He will lie in state Tuesday, December 7th, at 10:30 a.m. until the time of his Funeral Mass at 11 a.m. at St. Fabian Catholic Church, 32200 W. 12 Mile Rd., Farmington Hills. Mr. Sinelli will be reunited with his wife and entombed at Oakland Hills Memorial Gardens, Novi.
In lieu of flowers, Memorial Contributions to Capuchin Soup Kitchen, National Multiple Sclerosis Society, Goodfellows of Michigan, and Children's Craniofacial Association would be appreciated.