Andrea L. Bregg, Licensed Funeral Director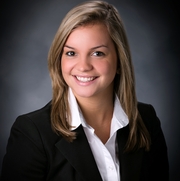 Unlike many of her co-workers, Andrea was not born into the funeral service. As a young child, she attended family funerals and was fascinated in the whole process. When Andrea graduated from high school she left her little hometown of Reed City behind for the metropolis of Detroit, where she entered mortuary school. Andrea expressed a keen interest in the grieving process and how to help those who were grieving to make the transition after the loss of a loved one. She feels that this is one of the prime goals of the funeral industry.
Andrea met McCabe funeral director, Robert Wilk, her former instructor at Wayne State Mortuary Science, at the Michigan Funeral Director Association convention. This meeting led to a job interview and a position on the McCabe staff. Andrea knew immediately the McCabes were a good fit for her. The McCabe philosophy of excellence in personal service was exactly what Andrea was striving to attain.
A thank-you card and gift from one of the first families Andrea had worked with was a defining moment for her. It made her realize the importance of making a personal connection with the family she is serving. She likes to be the strong pillar that a family can depend upon for answers and emotional support during their grieving process. She keeps an open line of communication with her families, encouraging confidence and offering reassurance. To Andrea, it is the little details that make that difference.