Joanne Fleck, Support Staff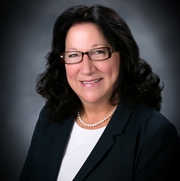 Joanne Fleck joined the staff at McCabe Funeral Home because she finds great fulfillment in helping a family's grieving process become easier to handle in even the smallest of ways. In her work here at McCabe, it is always her focus that the deceased individual is the very special loved one of the family and friends she is serving. Because of this, she believes that those individuals should be treated with utmost care and love. Providing the greatest of comfort and giving great attention to these details is her primary goal.
Joanne enjoys the welcoming and hospitable environment at McCabe Funeral Home, and every day, she contributes to this pleasant working environment.
In addition to the fulfillment Joanne finds working in the funeral service field, she enjoys serving as a Eucharistic Minister at the local nursing home. Joanne enjoys time, hobbies, and life interests with her retired husband Scott and her two grown sons and their wives as well as their grandson.