Kelsey Petry, Licensed Funeral Director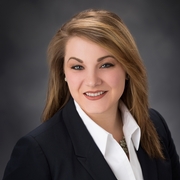 Kelsey Petry chose to pursue a career in funeral service after her experience working as a caregiver in hospice care. As a caregiver, she attended many funerals for those she served in hospice care, and from that experience, she realized that she had a place and a calling to positively impact the grieving families she would serve in the funeral service business. As fulfilling as hospice care was for Kelsey, she felt an unrelenting drive to do more for those who are grieving. After much research into this profession, she realized there wasn't a single facet of funeral service that didn't spark her interest.
"Our families come first," is a phrase that is often stated at McCabe Funeral Home. It is this dedication, not only to the community, but also to the families they serve, that made the decision to work at McCabe an easy one for Kelsey.
Kelsey believes her perseverance is her greatest asset. She enjoys setting goals as much as she enjoys achieving them. However, it will always be her constant ambition to be the best funeral director she can be that is her greatest asset.