Meaghan Korzeniewski, Support Staff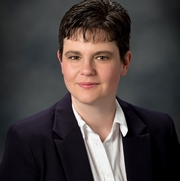 Meaghan Korzeniewski started her professional career as an ER Technician. It was from her 15 years of experience in this field that Meaghan found her way to funeral service industry. It was there that she first held the hands of the dying. It was there that she held grieving loved ones in her arms as their lives changed instantaneously with the passing of someone dear. With this understanding, Meaghan knew what her next career step should be. This led her to McCabe Funeral Home.
Meaghan chose to join the McCabe family because the first time she walked through the front door, she had a sense of calmness. This peaceful feeling convinced her that she needed to be a part of the mission and calling of McCabe Funeral Home. Here, she can serve families just as she did as an ER Tech. However, in this capacity, she loves that she can now help grieving families remember and honor their loved one's memory.
Meaghan believes the biggest asset she brings to McCabe Funeral Home is her understanding from where families are at such a difficult time. From her many years as an ER tech to her experience in the funeral business, she understands the pain, the grief, and the loss, and she loves to meet people at that difficult place and act as a soothing presence.