Tracey Seranian, Administrative Assistant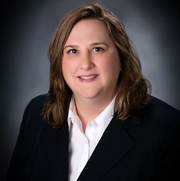 Tracey was raised in Farmington Hills, a mile from the McCabe Funeral Home, so she was very aware of their importance and positive impact in the community as they were a mainstay throughout her childhood. Tracey was also acquainted with the McCabe Funeral Home's outstanding reputation in the industry and the community. As a result, she was drawn to a career in funeral service and naturally came to McCabe Funeral Home. That was 12 years ago, and Tracey has been a valuable member of the McCabe family ever since.
Tracey takes great pride in assisting grieving families through the funeral service process. With each family she genuinely provides comfort, support and respect for their loved ones entrusted in McCabe Funeral Home's care.